Ubuntu VPN
If you're using the Ubuntu operating system, you're not alone: With millions of users, Ubuntu is one of the most popular open-source operating systems for laptops, personal computers, and other mobile devices. Part of the reason for its popularity is its reputation as a relatively secure system, earned due to its minimal risk of malware-related problems and frequent security patches. But to ensure maximum security as well as protect your privacy online, the next step should be installing a VPN. For Ubuntu users, this will require our Chrome or Firefox extensions.
Stay Safe on the Internet
When you're using any operating system, including Ubuntu, VPN services can ensure that your data is protected while it's sent to and from the Internet. This is particularly important if you're using your laptop at a free Wi-Fi hotspot. A VPN can:
Protect you from suspicious sites. We not only have the ability to detect 3.5 million spam and phishing sites, but we'll also block and prevent them from infecting your devices.
Protect your data with an encrypted network. With our (VPN, Ubuntu) users will benefit from high-level encryption to protect the data you're exchanging online. Only encrypted information can pass through our secure VPN tunnels, meaning that our services can help protect your credit card numbers, banking information, passwords, and other sensitive data.
Hide Your Location Online
We have servers across the U.S. and around the globe, and with our VPN, you can use these servers to hide your IP address and browse using a new one, so that you can:
Conceal your location and prevent the government, your ISP, and hackers from tracking you
Download without limits
Access geo-restricted content, such as video-streaming sites that block users from other countries due to licensing restrictions
Unblock Restricted Websites
We believe that the Internet should be without borders. Unfortunately, not everyone feels the same way, and you may run into blocked content while you're using Ubuntu. VPN users, however, can effectively avoid firewalls and filters that workplaces, schools, and even governments use to restrict access to certain websites. By allowing you to go online using an IP address other than your own, we not only allow you to protect your privacy but also allow you to visit some of the most commonly blocked sites from anywhere at any time, including:
Facebook
Instagram
Twitter
YouTube
Try Our VPN for Free
It's simple and free to use Hotspot Shield VPN. For Ubuntu users, it's as fast and easy as:
Downloading the Hotspot Shield Chrome or Firefox extension
Installing it on your device
When you use our VPN, you'll benefit from being able to use thousands of servers worldwide and get top-rated speed and performance. Soon, you'll see why Hotspot Shield is trusted by hundreds of millions of people in 200 countries. Our patented VPN protocol has even been integrated by more than two thirds of the world's largest security companies!
Why wait to get a reliable VPN? Ubuntu users can add another layer of privacy and protection for their data right now, for free, with Hotspot Shield.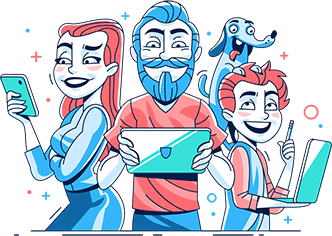 Download Hotspot Shield VPN. It's Free!
Join over 650 million users already enjoying absolute Internet Freedom around the world by downloading Hotspot Shield VPN.