The Best Way to Unblock Games Online in 3 Clicks
For a lot of gamers, going to work or school means "game over" for you, at least until you can get back home. But it doesn't have to be that way. If your favorite game has been blocked, just get Hotspot Shield. We make unblocking games online simple: Just download Hotspot Shield VPN, connect with one of our 600+ servers around the world, and start unlocking new achievements.
Start playing unblocked games online while enjoying privacy and anonymity.
Why Use a VPN to Unblock Games Online?
Play Games With Friends Across the Globe

Quite often, people find themselves making new friends online while having fun on game websites. Unblocked access to all games means that you'll never miss an opportunity to play with friends living in other countries. A VPN provides you with fast, secure access to game servers all over the world.
Reduce Lag Time

When you play unblocked games online via a VPN, it decreases lag time because you can connect through a VPN server that's located closer to the game server. Lag time can result in the loss of valuable seconds that can make the difference between victory and defeat in online games.
Protect Your Privacy

One of the best reasons to use a VPN to unblock virtual games is that you can remain anonymous. You can create an online gaming persona without fear of others finding out who or where you are. A VPN provides you with a different IP address, which not only lets you get around IP-based content blockers but allows your location and other personal to remain private.
---
How to Unblock Games at School or Anywhere Else
Many schools, universities, and workplaces block access to online games. But with the help of a VPN, you can get your favorite game websites unblocked, no matter where you are. Our VPN acts as a tunnel between your computer or mobile device and a server. Hotspot Shield is compatible with iPhone, Android, Mac, or Windows devices and the Chrome and Firefox browsers.
---
Why Are Online Game Websites Blocked?
Some governments restrict large swaths of the Internet, including online gaming websites, for political, cultural, or religious reasons. These regimes seek to maintain control over the online activity of their citizens.

Many employers who block gaming websites believe these sites are distractions to employees and reduce productivity.
Colleges, universities, and other schools may block these sites because they believe online games take time away from a student's studies.
---
Unblocking Games Online and Avoiding Geographic Restrictions Has Never Been Faster or More Secure
Want to be able to play any game, anywhere in the world, without anyone knowing who or where you are? With VPN, you can:
Visit gaming sites in other countries under a different IP address
Enjoy faster play by connecting with a server close to the game server
Hide your identity, location, and other sensitive data
Play online games without leaving behind a record of your Internet activity
What About Using a Proxy for Unblocking Games Online?
We don't recommend the use of a proxy for unblocking online game websites, as a proxy only secures your Web browser or torrent client. A VPN secures 100% of your Internet access, replacing your local ISP routing for all locations. A fully anonymous VPN server is also much more secure; proxies are often targeted by cyber-criminals, but a VPN encrypts all of your data to keep you safe.
| Proxy vs VPN | VPN | Proxy |
| --- | --- | --- |
| Works with phones and tablets | | |
| Protects from phishing threats | | |
| Encrypts your activity | | |
| High-speed browsing | | |
| Regular virtual location changes | | |
| Hides your location | | |
| Hides your identity from snoopers | | |
---
Download Hotspot Shield for Free!
More than 650 million Internet users use Hotspot Shield to keep their online activities anonymous and their personal data private. Download Hotspot Shield and start accessing blocked sites today!
We don't collect, store or share your data
---
Some More Helpful Articles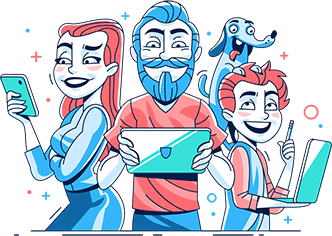 Download Hotspot Shield VPN. It's Free!
Join over 650 million users already enjoying absolute Internet Freedom around the world by downloading Hotspot Shield VPN.