Hotspot Shield VPN for Wi-Fi Routers
Secure all devices connected to your network by installing our award-winning VPN on your Wi-Fi router.
Already a Premium subscriber? See steps to install here

Fastest, secure VPN for your router
Stay private and secure on all devices connected to your Wi-Fi router—from laptops, tablets, TVs, to smart devices—with our easy-to-setup router VPN. Connect to thousands of servers across 80+ countries and 35+ cities, giving you access to sites and streaming content all over the world with peace of mind. Learn more about VPN features.
How do I install Hotspot Shield on my router?
Follow these simple steps to set up your router.
Looking for a step-by-step installation guide? Check out our in-depth setup articles.
Shop routers with Hotspot Shield VPN
These powerful wireless routers are pre-installed with Hotspot Shield VPN, and come with a 30-day money-back guarantee and 1-year warranty from FlashRouters*
Shop all routers
*We receive a small commission if you use our links to buy routers from www.FlashRouters.com. All routers purchased by you are subject to the terms of FlashRouters. We are not agents of FlashRouters and do not assume any obligation or liability for your purchase or operation of any routers.
Guarantee and warranties
come from FlashRouters.
Key features of Hotspot Shield router VPN
Secure every device automatically

Protect all devices connected to your Wi-Fi—from IoT devices, gaming consoles, to smart TVs—even if they don't support VPN apps.

Keep your family secure

Never worry about whether your family remembers to turn on their VPN—everyone is protected when they're connected to your Wi-Fi.

Router protection and more

Connect 1 router and 5 devices under your account. Get VPN apps for your mobile phone, laptop, and more—so you're protected wherever you are.

Military-grade encryption

Stop cyber predators from tracking you online. Our VPN offers encryption technology with built-in malware and phishing protection.

Global internet access

Access content all over the world by connecting to one of thousands of servers across 80+ countries and 35+ cities.

Unlimited data for streaming and more

With no data limits for Premium members, download, game and stream as much content as you want.

24/7 live tech support

We're here to help Premium members with any questions or issues. We'll be with you in seconds.

45-day money-back guarantee

We're so confident you'll love everything about Hotspot Shield Premium VPN, try it risk-free for 45-days.
Why choose Hotspot Shield VPN for router
Access the internet without borders
With thousands of VPN servers in 80+ countries and 35+ cities, it's never been easier to access content from across the globe. Whether you're traveling abroad and want to watch your favorite streaming service as if you were back home, or whether you need to access websites and services that are restricted in your area, Hotspot Shield's sophisticated encryption means you can access the content you want, when you want it.
"By far the fastest VPN"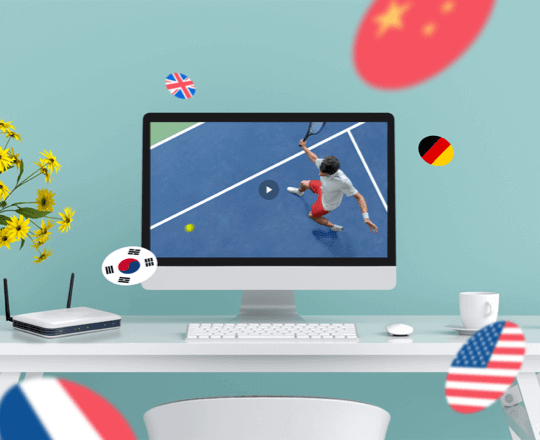 Protect your devices, family, and home
By using a VPN on your router, any WiFi-enabled device, including ones that aren't typically compatible with VPN software — such as security cameras, certain Smart TVs, streaming devices like Apple TV, gaming consoles, and more — are instantly protected. You never have to remember to turn the VPN on; your entire family is protected at all times. Want to add a new device? No problem! Simply join your WiFi network as normal and the new device is immediately secured, without needing any additional steps.
"2019 Most Innovative Security Company"
Frequently Asked Questions
What routers is Hotspot Shield compatible with?
Hotspot Shield's router VPN is compatible with many popular routers, including Asus, GL-iNET, Linksys, Netgear, and more. For certain routers, like Linksys and Netgear, you may need to install specific opensource firmware — such as DD-WRT or FreshTomato — to make your router compatible. You can find all the information you need in our Router setup guides.
How can I get help setting up Hotspot Shield's VPN for router?
Check out our in-depth setup guides or contact our customer support team 24/7 via live chat and email. Just head to your account page to get started.
What is the best free VPN for router?
While Hotspot Shield does have a free VPN product, our router VPN is only available to Premium members. For the best user experience on your router, Hotspot Shield Premium offers unlimited bandwidth, 80+ server locations and 35+ cities around the world, 24/7 customer support, a 45-day money-back guarantee, and so much more.
Should I install VPN on router?
A router VPN is the best way to protect all the devices connected to your home WiFi network, regardless of whether that device supports VPN software. By installing a VPN on your router, you also never have to worry about remembering to turn the VPN on. All of your family members are connected, at all times. With today's online privacy and security concerns, a router VPN is essential to keep you and your family safe.
Try Hotspot Shield today completely risk free