VPN for Mac
Surf the web privately and securely on your Mac device with Hotspot Shield VPN
Enjoy private and secure browsing with encrypted data transmission
Unblock YouTube, Facebook, Netflix and gaming sites from anywhere
Protect your Mac against 3.5 million malware websites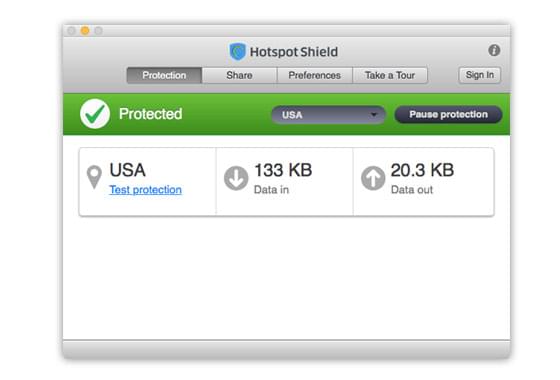 What Can Hotspot Shield VPN Do for Your Mac?
Many people believe that Mac Computers are more secure than PCs and that Mac users do not need to be concerned about security software. The recent Flash Trojan virus which infected half a million Mac computers has shown the devices are not completely safe. More importantly even if your computer is safe, your internet connection isn't. Hotspot Shield VPN for Mac is a powerful internet security and privacy solution for your Mac computer. It encrypts data sent and received over the Internet and protects your personal data, including credit card information, passwords, downloads and instant messages. When you run the Hotspot Shield VPN on your Mac, no hackers can intercept or spy on your Web activities!
Additionally, Hotspot Shield VPN for Mac offers private browsing to ensure the privacy of your web session. It allows you to browse the Internet using a US IP address, thus protecting you from web spies and hiding your identity from ISPs or the government.
All those features are available with Free Version of the Mac client.
Additional benefits of using Hotspot Shield VPN for Your Mac:
Unblock Facebook, YouTube, Netflix, gaming sites & more on your Mac – Annoyed that your school or corporate IT administrator put in place internet filters and firewalls to stop you from accessing your favorite websites? With Hotspot Shield VPN for Mac, you can bypass those pesky internet filters and get unrestricted access to any website you want, including gaming websites, Facebook, YouTube and more.

Secure your Web session when using your Mac at WiFi hotspots – Public WiFi hotspots at schools, universities, cafes, airports and hotels are vulnerable to online security attacks and various other online threats. WiFi connections at these hotspots are generally unencrypted. So, whatever data you send or receive is not secure and can be easily intercepted or hacked. Hotspot Shield VPN for Mac encrypts your network traffic and secures your data using HTTPS encryption.

Bypass location based internet filters – Governments in some countries restrict their people from accessing certain websites. In other cases, the sites or services—including many popular music or video services – themselves block access outside of the US. So if you live in one of these countries or happen to be on a trip outside the US, it would be annoying if you cannot access your favorite content. With Hotspot Shield VPN, you can bypass location-based filters to gain uncensored access to all the content you want. It simply assigns you a US IP address and allows you to access your favorite websites as an anonymous user just as if you were at home.