Download VPN for Android
Get the best VPN for Android today and enjoy secure, private access to content
Google Play 1.4M
Hotspot Shield VPN for Android
Hotspot Shield is the "world's fastest VPN," as verified by Ookla's Speedtest. By connecting to one of our 3,200+ VPN servers in 80+ countries — including 35+ cities around the world — your internet traffic is encrypted. This ensures you can browse the web securely and privately, keeping your sensitive data protected.
How do I download an Android VPN?
Follow these simple four steps to easily download a VPN for Android in seconds.
Step 1

Download

Download Hotspot Shield VPN for Android

Step 2

Select location

Select the VPN server location you wish to connect to

Step 3

Connect

Open up the Hotspot Shield app and click "Connect"

Step 4

You're all set

Enjoy your favorite content with peace of mind
Hotspot Shield Premium: Features for Android
Military-grade encryption

Get fast, secure internet connections with advanced encryption technology.

Global internet access

Connect to 115+ virtual locations in 80+ countries and 35+ cities around the world.

Patented Hydra protocol

Hotspot Shield's proprietary Hydra VPN protocol is verified by experts as the fastest, most secure on the market

Unlimited bandwidth

Get Premium today and stream as much as you want. Unlimited bandwidth means you never have to stop.

24/7 live tech support

We're here to help Premium members with any questions or issues. We'll be with you in seconds, not minutes or hours.

45-day money-back guarantee

We're so confident you'll love everything about Hotspot Shield, you can try it completely risk-free for 45-days

Link up to 5 devices

Create an account to link up to 5 devices, including your phone, tablet, and TV

Privacy you can trust

We don't record your VPN browsing activity in any way that can be associated to you
Why choose Hotspot Shield VPN for Android
Access the internet without borders
With 3,200+ VPN servers in 80+ countries — including 35+ cities around the world — it's never been easier to access content from across the globe. Whether you're traveling abroad and want to watch your favorite streaming service as if you were back home, or whether you need to access websites and services that are restricted in your area, Hotspot Shield's sophisticated encryption means you can access the content you want, when you want it.
"By far the fastest VPN"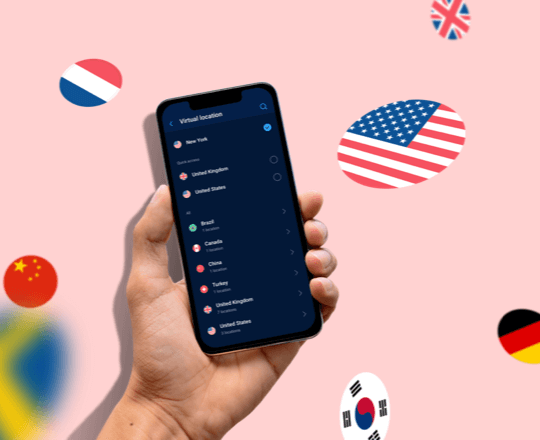 World's fastest VPN, verified by experts
Most of the leading VPN providers all use the same antiquated open source technology. Hotspot Shield is different. We built our own patented Hydra protocol from the ground up, and it delivers a far more consistent VPN connection — not to mention speeds over 2x faster than the nearest competition when connected to long-distance servers. In fact, Speedtest found Hotspot Shield actually increased download speed by more than 26.2% compared to when not using a VPN, while all other providers decreased speed by at least 42.5%.
"2019 Most Innovative Security Company"
Frequently Asked Questions
What is the best free VPN for Android?
When it comes to keeping your mobile device's internet connections secure, Hotspot Shield is the best free VPN for Android. Hotspot Shield Basic, the free version of our app, is perfect for securing your public Wi-Fi connections at the local coffee shop.
Subscribing to Hotspot Shield Premium, however, provides many more features to enhance your online security. Connect to VPN servers in 80+ countries, stream unlimited amounts of content 4x faster, get 24/7 customer support, and much more. You also get free access to three more privacy and security apps: Identity Guard, to protect you from identity theft, 1Password to manage and your secure passwords, and Robo Shield to block annoying robocalls.
Do I need a VPN on my Android device?
You can avoid mobile data caps by connecting to public Wi-Fi networks, but that also creates security risks. Public internet connections are notoriously insecure, allowing hackers and identity thieves to snoop on devices using the shared network. They can monitor your web browsing activity to get passwords and steal your sensitive data.
Hotspot Shield VPN connections are fully shielded from hackers and identity thieves thanks to military-grade encryption. We also protect you from tracking by ISPs and other prying eyes by hiding your web browsing activity.
How do I use a VPN for Android?
Using Hotspot Shield VPN for Android is fast and easy. Just tap "Connect" and your Wi-Fi connection is fully encrypted. Follow these simple steps to get Hotspot Shield VPN for Android.
Step 1: Download Hotspot Shield VPN for Android
Step 2: Open up the app and sign in
Step 3: Press "Connect"
Step 4: You're all set! Your internet connection is now encrypted
As easy as it is to get up-and-running, Hotspot Shield offers an unrivaled combination of security, performance, and global availability. No matter where in the world you travel, you can access your Netflix watch list or stream live sports as if you were back at home.
What does a VPN do on Android?
When you connect to the internet, especially over public Wi-Fi, your data is completely visible to anyone with the right tools. If you're traveling, you also run into issues with geographical restrictions imposed by streaming services and local regulators.
Hotspot Shield VPN stops that from happening. All of the data passing between your Android device and our VPN servers is fully encrypted which means nobody can access it. We also help mask your web browsing activity through our proxy services. And with a global network of 3,200+ VPN servers, you can access your favorite sites and content from anywhere in the world.
Try Hotspot Shield today completely risk free