1. DO AN ASSESSMENT OF YOUR ONLINE ACTIVITIES
Doing an assessment of your online activities is the first important step toward protecting your privacy and identity online.
What private and personal information are you storing, sharing and posting on your computer, mobile devices, emails, Facebook or other social networking sites, or even cloud storage sites such as Dropbox.
How safe are these places and who may be able to access them? What are the consequences if your personal information falls into the wrong hands? These are the questions you have to ask yourself in order to assess your risks and to help you prepare the necessary actions to protect yourself.
2. INSTALL THE LATEST ANTIVIRUS SOFTWARE ON YOUR DEVICES
An Antivirus software is a must-have utility to protect your computer from viruses, spyware, trojans, and worms. These malicious programs are designed to invade your privacy and steal your personal data. As such, it's critical for you to protect your devices with the latest antivirus program(s).
Keep in mind that antivirus
software protects only your
device, not your internet
connection.


There are plenty of free as well as paid versions available. Just be sure to use good antivirus programs from trusted companies. Watch out for fake antivirus programs that use popup messages to tell you that your computer is compromised. According to PCMag.com's tests, AVG and Ad-Aware's free anti-virus programs scored the highest in their malware cleanup and malware blocking tests. For paid solutions, Webroot, Norton, and Kaspersky's anti-virus products have the highest ratings.
Keep in mind that antivirus soware only protects your device, not your internet connection.
3. USE A PERSONAL VPN (VIRTUAL PRIVATE NETWORK):
While antivirus programs do a good job of protecting your computer, it doesn't secure your browsing session and your Internet communications. A VPN is a perfect complement to an antivirus program.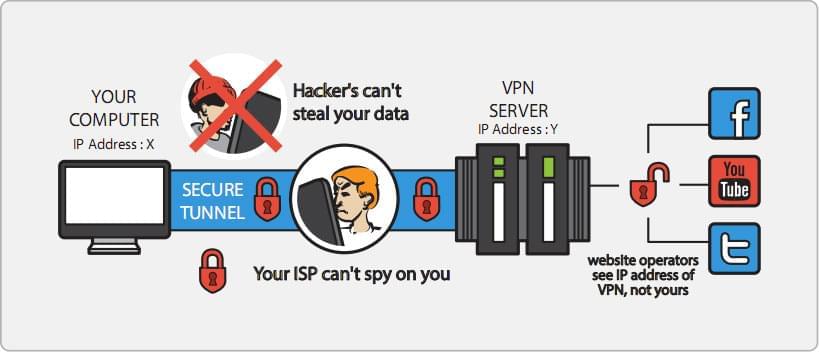 VPN protects you by masking your IP address and by encrypting all your internet communications
VPN services such as the Hotspot Shield VPN protects your privacy online and secure your web sessions by creating a secure "tunnel" on the Internet between the VPN server and your device.
Thus, any information transmitted is encrypted, protecting your private and sensitive information such as your passwords, credit card information, and banking information from eavesdroppers and hackers.
VPN technology also enables you to hide your IP address by replacing your IP address with the VPN server's IP address.
So the sites that you visit only see the IP address of the VPN server, not yours. This enables you to remain anonymous online, thereby preventing your ISP and the government from tracking your web browsing activities or anything you do on the Internet. If you are traveling or just wanting to hang out at the local Starbucks and want to use free WiFi to connect to the Internet, a VPN is a must-have utility to protect your privacy and prevent hackers and snoopers from stealing your personal information.

A VPN is a must-have
utility to protect your
privacy and prevent
hackers and snoopers from
stealing your personal
information...



In addition to protecting your privacy and securing your web sessions, another benefit of a VPN that may be useful for some people is its ability to bypass firewalls and filters to enable you to unblock any websites and get unrestricted access to your favorite content from anywhere.
This feature is very useful for travelers. Due to censorship and rights agreements, popular websites and services such as YouTube, Twitter, Hulu, Netflix, Gmail, Skype, and Pandora are restricted in certain countries. But with a VPN, you can have unrestricted access to any content you want without censorship and without anyone tracking your every moves on the Internet.
A VPN is easy to use and setup. If you are looking for a reliable privacy protection solution that also provides secure web connections, then a VPN is a must-have application for all your computers and mobile devices.
Be careful about what you share and who you share your personal information with on Facebook:
Only add as a "friend" people that you personally know. Review your friends' list and "unfriend" people that you don't personally know or trust.
Remove information such as your address, emails, phone number, the year of your birth, and other sensitive information on your profile.
Do not share any sensitive and private information on wall postings, messages, or feeds. This goes double for any information about your location and whereabouts. This can be used by criminals to target your home when you are away.
Go to the privacy settings and update the privacy settings to control who can see your status updates, posts, photos, and other personal information.
Create a separate email account to use for all your social networking sites.
Be careful about using Facebook Apps. Some of the apps can access lots of your personal information and sell your personal information to other parties.
4. BE CAREFUL WHAT YOU SHARE ON SOCIAL NETWORKING SITES
Social network sites such as Facebook have very vague and complicated privacy policies. In fact, the entire Facebook business model is based on leveraging your personal information for advertising and marketing purposes.
5. FOLLOW THESE EMAIL SECURITY RULES
Exercise caution when opening emails, clicking on links, or downloading attachments - One of the cyber criminals' favorite tricks is to pretend to be your bank or other legitimate businesses and ask you to provide your private and personal information or ask you to click a link to a site where it will ask you to enter your bank user name and password. This is called phishing and it's quite common. When you see these types of emails, just delete them.
Additionally, do not download any attachments if the email seems suspicious, even if the email is from the person that you know. Your friend's email could be hacked and it could send malicious messages to you and anyone that's on your friend's email contacts.
Lastly, use a secure email service. For free email services, Hotmail and Gmail are among the safest. If you require more security, then use email services from secure email providers such as Hushmail and VaultletMail, which encrypt the emails that are in transmission as well as emails that are stored on servers.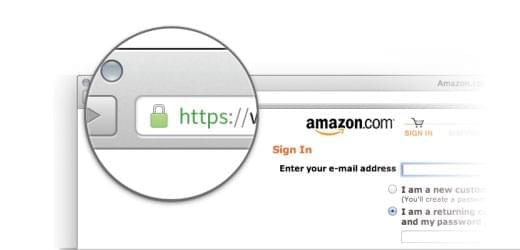 6. MAKE SURE SHOPPING SITES ARE SECURE
If you are doing any online transactions, make sure the site uses SSL, which is a security protocol that encrypts all your data. You can tell if a site is using SSL by the presence of the "HTTPS" at the beginning of the website address and the padlock icon.
Follow the guidelines below to protect your passwords from hackers:
Create a long password (9 or more characters) and include a combination of lower and upper case letters, numbers, symbols, and punctuation marks. Do not use any well known information as part of your password. An example of a strong password would be something like this: hi7*Lpk:9s!
Do not use the same password for multiple sites and services (i.e. using same password for your banking site as your Gmail account).
Change your password every 6 months or so, especially passwords to your banking sites, email accounts, and credit card websites.
7. USE STRONG PASSWORDS
Most people tend to use their names, birthdates, driver's license numbers or phone numbers to create passwords. The most common, believe it or not, is to use the word "password." This is a big mistake as it makes it easier for hackers to crack your account.
If you have too many passwords to remember, you may want to use a password manager like Lastpass (it's a free browser plug-in) to help you securely manage all your passwords. With Lastpass, you only have to remember one password. That one password is all you need to enable you to log you in to any site with your saved login credentials. There are also several popular password lockers for your mobile device, which you can have with you at all times.
8. DELETE OR CLEAR THE TRACKING COOKIES
Tracking cookies are small pieces of code that websites attach to your computer to store information about your online activities.
Information about you can then be sold to companies around the world without your consent.
If you are concerned about what information about you is collected and how it is used, you should block or remove unwanted cookies on your browsers on a regular basis.
By following these guidelines and using the tools recommended above, you can go a long way in protecting your privacy and securing your identity!