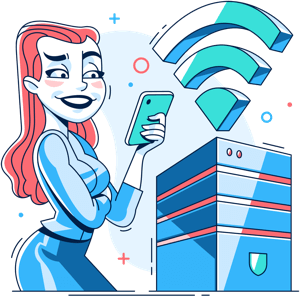 How to protect yourself on public Wi-Fi
Even if you use secure websites, hackers can still intercept your passwords and other private information. Get Hotspot Shield VPN and protect yourself when connected to public Wi-Fi, and more.
---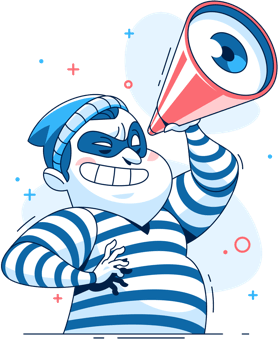 Why is public Wi-Fi unsafe?
Your data can be monitored by anyone within Wi-Fi range of your computer. All they need is a device that costs less than $20 and free software that can be downloaded from the internet.
With this setup, they can intercept your data as it's transmitted through the air. Hackers can also set up fake Wi-Fi hotspots that can trick you into connecting to them. Once you are connected to a fake hotspot, your passwords and sensitive information can be hijacked and stored.
It's like if you were at the airport, talking to your friend on the phone in a very loud voice. Anyone nearby would know what you were talking about.
Since a Wi-Fi signal can reach as far as 300 feet (92 meters) in all directions, a hacker can be far away from you and still listen in on your internet connection. So even if you don't see anyone nearby, someone could still be listening.
Luckily, there are precautions that you can take to greatly minimize your risk of being hacked on a public internet hotspot. Here are our top tips for protecting your sensitive information while you are on the road.
---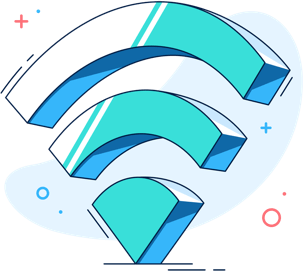 Tips for staying safe on public Wi-Fi
Use the following tactics to keep your data protected from hackers, ISP's and anyone trying to snoop on your activity online.

Use a VPN
The easiest and safest way to protect yourself is to use Hotspot Shield VPN whenever you're connected to a public Wi-Fi network. Hotspot Shield VPN will encrypt (or scramble) your data, making it almost impossible for anyone listening to figure out what you're sending and receiving. Our industry-leading technology will not slow you down and you'll still be able to stream your favorite videos and download large files.
Our Kill Switch feature also protects you in case your internet connection drops, even if it's for just a fraction of a second. VPN software that doesn't have this technology can accidently broadcast unencrypted data while it's waiting for your computer to reconnect to the internet.
Also remember to use install Hotspot Shield VPN on all of your devices. Our software is compatible with all of the major operating systems. Many people are very careful about the information that they transmit via their laptop, but tend to forget to protect their mobile devices. Get complete coverage by downloading Hotspot Shield VPN right now.

Use two-factor authentication
Whenever possible, enable the two-factor authentication (2FA) option in the online services you use. This requires you to enter a second, time-sensitive login code after you enter your username and password. The 2FA code expires and changes every 30 seconds.
Even if a hacker does get your password, it's almost impossible for them to login to your account because the 2FA code changes so quickly. Services like Evernote, Gmail and Coinbase offer this protection, but you have to enable it manually.

Double check the real network name
Make sure that you're not connecting to a fake Wi-Fi network. Ask an employee at your location what the legit name of their Wi-Fi network is. This small precaution can save you a ton of headache later.
Hackers will set up their own Wi-Fi network with the same name as the coffee shop you are at, or use something generic like "Free Public Wi-Fi," to entice people to connect to their network. Once you connect to one of these fake networks, hackers can intercept your information, send you to fake versions of popular websites and even install viruses on your computer.
Protect yourself and use Hotspot Shield VPN every time you connect to a public Wi-Fi network. You will be covered even if you accidently connect to a bogus Wi-Fi network.

Turn your Wi-Fi off when not in use
Your laptop or mobile device could be transmitting data in the background, even when it appears to be in sleep mode. So when you're finished using the internet on a public network, be sure to turn off the Wi-Fi on your device. This will ensure that data isn't transmitted without your knowledge.

Make sure your device and apps are up-to-date
Don't be the easy target. Hackers love it when you don't update your devices because they can potentially exploit older versions of your software. Be sure to update your apps and operating systems frequently, so you always have the latest security measures in place.
When you keep your devices updated and use Hotspot Shield VPN, hackers will often move on to much easier targets.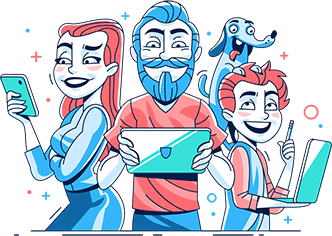 Try Hotspot Shield today completely risk free
Love it, or leave it and get your money back. Free the internet with Hotspot Shield for Windows with a 45-day money-back guarantee.