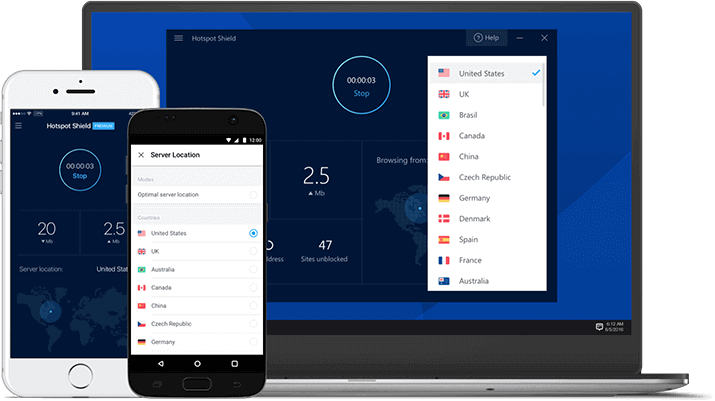 Hotspot Shield VPN
Access all your favorite content privately and securely — download Hotspot Shield VPN free

What is a VPN?
Hotspot Shield VPN acts like an underground tunnel that connects you to your favorite websites. When you connect to a VPN, it turns a public network into a private network using military-grade encryption to protect you from hackers, identity thieves, advertisers, governments, ISPs, and others on the internet.
On public networks, these groups can track your online behavior virtually non-stop to steal your personal information, bank records, usernames, passwords, serve you targeted ads, or simply set rules about what website you can and can't visit.
Since you're able to access websites anonymously using a VPN, not only is your personal information safe from prying eyes, but you can get by content filters that are set on Public Wi-Fi networks at work or school, and other forms of internet censorship set by ISPs and governments.
Hotspot Shield VPN is "a top choice for encrypting your Wi-Fi connection."

Why do I need a VPN?
People all around the world use Hotspot Shield VPN to gain unrestricted access to all their favorite content from almost any location. With governments and ISPs continuously trying to censor the internet, internet freedom and net neutrality have become controversial issues that affect the lives of virtually all people. This is exactly why we built Hotspot Shield VPN: to help provide secure, private access to the world's information for everyone.
But that's not all. Here's a fact many people don't know: your home Wi-Fi network is just as unsafe as any public Wi-Fi network. Most routers are easily hackable because they have no built-in security protocols. That's right – no security protocols whatsoever.
For this reason, home routers are a primary target for cybercriminals looking to steal your personal information and to commit harmful cyberattacks across the internet. Additional layers of security are a must to keep hackers, cybercriminals, and other information thieves at bay. A VPN provides the privacy and information security you need to keep you and your family safe from hackers, snoopers, and identity thieves.
When do I use a VPN?
Every time you login to your computer and get on the internet,
connect to Hotspot Shield VPN for the following reasons:
Get unlimited access to your favorite content

Video streaming, downloading, gaming, social media: get it anywhere, even where it's restricted by public Wi-Fi content filters. With unlimited bandwidth, you can access all your favorite content from all your devices. Hotspot Shield is rated "by far the fastest VPN" by PCWorld.

Gain top-grade security

Stop hackers, ISPs, and other snoopers watching or tracking you online. Hotspot Shield VPN uses military-grade encryption to ensure your data is indecipherable. Malware and phishing protection is built in to protect you from viruses and scams lurking across the web.
Avoid censorship and surveillance

Governments, businesses, and hackers all over the world can see your private data, censor your favorite sites, and steal sensitive information, even when you're connected to your home Wi-Fi. Put a stop to it by downloading Hotspot Shield VPN now.

Keep your information private

Hackers, cybercriminals, identity thieves, and others target home Wi-Fi networks to steal you and your family's personal data. With Hotspot Shield VPN, your personal information is indecipherable because we use military grade encryption.
How do I set up Hotspot Shield VPN?
Setting up Hotspot Shield VPN is simple: connect in just one click.
Once you download Hotspot Shield and sign up, all you have to do is:
Connect to the internet with any device

Open the Hotspot Shield app

Click "Connect"
It's that easy! Now, you're free to access all your favorite content whenever you want, wherever you want, with privacy and security protections you can trust.
Hotspot Shield is user friendly: "very simple, clear to understand, and uncluttered."

Why should I use Hotspot Shield VPN?
There are many great reasons to use Hotspot Shield VPN. We engineer some of the fastest, most efficient VPN technology available today, Catapult Hydra. With over 30 patents, our unique, proprietary VPN transport protocol optimizes multiple server connections that are stronger and faster over long distances. PCWorld concluded that Hotspot Shield VPN is "by far the fastest VPN" they've tested.
Among our commitment to providing the best service to users around the world, is our equally strong commitment to privacy and security. We strongly believe that online privacy is a basic, inalienable human right.
We take pride in upholding our mission to our users – that access to the world's information and data privacy are fundamental human rights. We provide superior technology and transparent privacy standards to make it all possible.
Join over 600 million users around the globe who trust Hotspot Shield VPN.