Dedicated VPN
When you search for IP-masking privacy tools to protect yourself online, consider several factors before deciding on a particular VPN. Dedicated IP VPNs, for example, can offer reliable service and allocate generous resources, but shared IP VPNs can increase anonymity, give you more choices and cost less.
Hotspot Shield's VPN service performs at the same level as a VPN that utilizes dedicated IPs and even provides several additional perks.
Try Hotspot Shield Risk-Free Today
Download our program and find out why we're a trusted VPN service for half a billion users around the globe. Try the fully-featured version of our VPN, subscribe now!
We offer different subscription levels because we recognize that every user has unique needs. Choose a subscription for anywhere between a month or a couple of years to start experiencing superior VPN service.
We're confident that our risk-free VPN trial will demonstrate why we're a leader in the VPN industry.
What Are Dedicated VPNs Used For?
Using a dedicated VPN server can offer website owners extra authority when completing administrative tasks and can keep databases safe and secure from intrusions. Dedicated IPs provide protection for homes or businesses that utilize security camera setups. Live feeds remain reliable and tamper-proof, meaning that users can always stay up-to-date on security issues and that no one can peek into feeds without permission. Using a VPN with dedicated IP services can also act as extra security insurance for website owners who own or run ecommerce businesses, especially if their personal websites host storefronts and they receive payments through them.
Limitations and Drawbacks of Dedicated IP VPNs
Though using a dedicated IP can offer a range of benefits, subscriptions often require long-term commitments and can cost much more than comparable alternatives. In addition, many of the advantages require technical knowledge and skill to fully implement.
What Dedicated VPNs Offer
Those who use a dedicated VPN get more control over their IP and servers. By opting for a dedicated VPN service, users can gain certain benefits, such as:
An assignment of a unique IP
More allocated bandwidth for download sessions
The potential to control access to one's own server
Do You Need a Dedicated IP VPN Service?
Achieving privacy and security while connected to the Internet doesn't require the use of a dedicated IP. VPN service that employs shared IPs can also provide effective protection against malware threats and breaches, along with offering its own kinds of advantages.
What Can Hotshot Shield Do for You?
Tumble your activity with the activities of others', making it harder to identity you.
Grant you access to more than one server for variety and potential performance improvements
Allow you to choose your IP's geolocation on a case-by-case basis
Lower overall costs for VPN service
Give you greater flexibility in terms of service commitments
At Hotspot Shield, we realize that our users want the best, intuitive, and easy-to-install protection and privacy tools that they can find. That's why we offer the ability the download our VPN tool right from our website and base our malware protection in the cloud - it's all designed to make our VPN user-friendly.
Get the Basics and More with Our VPN Service
Using Hotspot Shield, you'll share IPs and enjoy the same fast Internet service and reliable protection that's often provided by a dedicated VPN service. Among other essential privacy tasks, our VPN can:
Encrypt data that's being transmitted online
Secure your connections
Provide effective security against malware
Help you remain anonymous in public Wi-Fi
Unblock restricted content
Shared IPs provide a smart and economical solution for Internet users who appreciate freedom, choice, variety.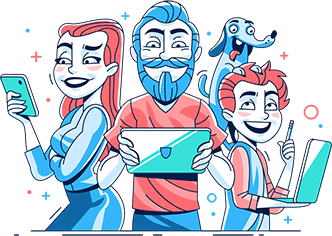 Download Hotspot Shield VPN. It's Free!
Join over 650 million users already enjoying absolute Internet Freedom around the world by downloading Hotspot Shield VPN.