How to Unblock Minecraft Using the Best VPN Service
Get your Minecraft game unblocked fast with the help of Hotspot Shield's trusted VPN. First, download Hotspot Shield risk-free. Second, connect with one of our 600+ servers and receive an alternate IP address. Then, play Minecraft for as long as you want while keeping your identity, location, and IP address along with your other sensitive information secure.
Why Use a Secure VPN to Unblock Minecraft at School, Work, or Anywhere?
When you use a VPN to get Minecraft unblocked, online activity can be hidden from prying eyes. Your real IP address is hidden so no one knows your location. You can play Minecraft unrestricted and no one will be able to trace the activity back to you. And playing Minecraft with a VPN can cut down on lag time during the game.
Most Common Reasons Why Minecraft Might be Blocked:
Prevent gameplay during study or work hours
Control usage of Internet of students and/or staff
To improve the focus of students and staff
How Our VPN Network Can Help:
Get around content blockers installed at school or work
Change your IP address to keep playing after you've been unfairly banned
Protect your data as it goes to and from the Internet
Reduce lag by using servers closer to the game server
Play anywhere, even in foreign countries or on public Wi-Fi
Avoid the effects of DDoS attacks
The Advantages of Getting Minecraft Servers Unblocked Using Our VPN
Using Hotspot Shield VPN to play unblocked Minecraft at school or work gives you peace of mind about your private data. We don't keep track of or store your online activity, IP address, or other personal information. If you want to remain anonymous online, Hotspot Shield's VPN is the best way to go. With it, you'll get:
The entire Internet, without content restrictions
Anonymous surfing
Private and secure browsing
Wi-Fi security
Malware protection
Web Proxies vs. VPNs
| Web Proxy vs VPN | Web Proxy | VPN |
| --- | --- | --- |
| All of the information you enter online is encrypted | | |
| Hides IP address | | |
| Reduces lag time | | |
| Stores your personal data | | |
| Records and stores your Internet activities | | |
Use the Best VPN for Minecraft and Play Unblocked Minecraft at School or Work. Setup Is Fast and Easy for Better Online Gaming.
Download Hotspot Shield for Free!
More than 650 million Internet users use Hotspot Shield to keep their online activities anonymous and their personal data private. Download Hotspot Shield and start accessing blocked sites today!
We don't collect, store or share your data
---
Some More Helpful Articles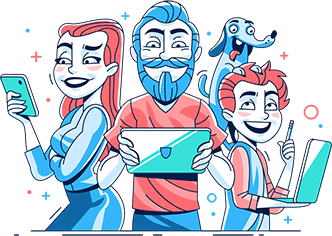 Download Hotspot Shield VPN. It's Free!
Join over 650 million users already enjoying absolute Internet Freedom around the world by downloading Hotspot Shield VPN.