Los Angeles VPN
No matter where you live, you can make your online experience safer with a reliable VPN. Los Angeles is no different, especially since there are so many public Wi-Fi networks in the city, which can be prime targets for hackers. Thankfully, when you download Hotspot Shield VPN, our secure data tunnels will keep your information safe no matter where you roam.
Protect Your Data With Our VPN
With more professionals working away from the office than ever before, secure access to information from anywhere is a necessity. When remote workers connect to our VPN, all data they send or receive will be encrypted, giving them and their employers peace of mind. With our VPN, our professional clients can:
Access secure corporate databases
Work on collaborative projects
Send and receive business-related email
Protect the integrity of secret projects or sensitive information
For the on-the-go professional, getting the job done depends on a VPN. Los Angeles businesses and their workers can trust us to help them protect their information.
Moving to or Leaving Los Angeles? VPN Service Helps You Stay Connected
If you often travel far from home, a Los Angeles VPN can ensure that you'll still be able to access your personal accounts online. Financial institutions like banks and credit unions may require that members log into their accounts online using an IP address that's located near their home to help them deter fraud. A VPN can give you an IP address from a server in Los Angeles even if you're far away on a business or personal trip.
Our VPN can also provide transplants to the Los Angeles area with access to websites they used at home. You can use an IP address from back home to access your bank accounts online, and you can also use it to access sites and services you might not be able to use in Los Angeles, like region-restricted streaming video services.
Stay Safe on Open Wi-Fi Networks
Tech-savvy Los Angeles offers many public Wi-Fi hotspots to help people stay connected, but using a free public connection isn't risk-free. On Wi-Fi networks that lack protection, hackers can:
View your Internet traffic
See what you download
Steal your data
Piggyback on your financial transactions
Gain access to your passwords
You can keep yourself safe from snoopers and hackers anywhere, even on a public Wi-Fi connection, by using a VPN. Los Angeles users can protect both their privacy and their private information with our services.
All of your data will pass through our secure VPN tunnel and be encrypted to keep it from being intercepted.
We assign you a different IP address to mask your location, and we'll never log your identity, online activities, or location, ever.
Keep your information safe, browse anonymously, and even visit blocked websites with our VPN and you'll see why hundreds of millions of users worldwide trust Hotspot Shield. Download Hotspot Shield VPN now for free and take advantage of our 30-day money-back guarantee: We're confident that you won't need it.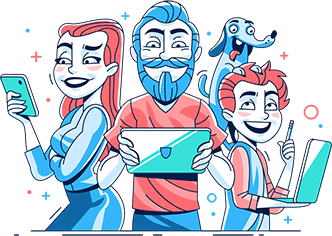 Download Hotspot Shield VPN. It's Free!
Join over 650 million users already enjoying absolute Internet Freedom around the world by downloading Hotspot Shield VPN.