Proxy for Chrome
Popular since its release, Google Chrome remains a steadfast favorite among students and professionals. This browser offers every user what they need to stay connected, such as:
Personalized profiles
Constant performance improvements
A mobile app for smartphones and tablets
While Google puts much effort into making its browser safe and reliable, users may find themselves frustrated when they try to use Chrome to visit a website that's blocked where they live, causing them to look for a proxy. Google Chrome can be used with proxy servers, but proxies may make you trade your privacy for access. However, you can have both when you use a VPN instead.
How Proxies Work
Proxies act as a go-between to hide the location of your mobile device or computer. When you try to access a blocked site through a proxy, your computer or mobile device sends the request to the proxy, which then passes it along to the site. Since the request comes from the proxy's location, not yours, the blocked site is accessible, and the proxy then passes the information you wanted back to you through its server. However, since everything you're sending and receiving goes through the proxy, whoever runs the proxy server can keep track of your online activities.
Differences Between a Proxy and a VPN
While seemingly similar, a few key differences make using a VPN a better choice than a proxy server when you want to look at blocked content online. Proxies can:
Route your information through a random server
Keep your identity secret by giving you an anonymous IP address
VPNs can do all of this, too, but Hotspot Shield can also:
Recognize and block millions of malicious websites

Encrypt all of your data to keep it secure

Safeguard your privacy: We never log your online activities, identity, or IP address
A proxy for Chrome may seem like a good idea, but a VPN can let you access blocked websites while keeping your browsing private and protecting your data. Our Chrome extension can open up a whole new world of security, privacy, and freedom to users.
Get Lightning-Fast Speeds
Google Chrome has a reputation for providing a seamless Internet browsing experience, and our lightweight extension ensures that you can enjoy a speedy and reliable connection speed so that you can browse without interruption. With our Chrome extension, you can:
Unblock websites without having to access a desktop VPN program
Get automatic protection whenever you open Google Chrome
Keep your personal information secure wherever you browse
We've designed our extension for Chrome to quietly work in the background of your browser so that you can concentrate on what matters most.
Ease of Use: VPNs vs. Proxies for Google Chrome
While you can configure a proxy for Chrome using old-fashioned elbow grease and technology knowledge, the process can require you to access hidden components of the browser. A skilled hand has to manually input specific changes into the browser's settings. The average user runs the risk of making the wrong modifications, breaking Chrome entirely.
When you download our Chrome extension, you can enjoy all the benefits of anonymous and secure Internet access without having to configure a browser proxy. Chrome users can leave the setting configurations up to us and get a free, open Internet as well as the peace of mind of sending your data through our encrypted tunnel.
Make Your Internet Activity Private Wherever You Are
Open Wi-Fi connections can present security risks to anyone who uses them. With our Chrome extension, you can browse the Internet through an open Wi-Fi network without having to worry about others snooping around in your personal data. To protect your privacy, activate our extension when using public Wi-Fi networks like those found at:
Coffee shops
Libraries
Airports
Hotels
Business centers
Doctors' offices
You can rest assured that we'll protect your data, even on public Wi-Fi, once you've installed our Chrome extension.
Get Instant Installation for a Better Internet Now
Many users put off using privacy tools because of the challenge of installing a proxy. Chrome users don't need to wait any longer, now that our free Chrome extension is available. Just go to the Chrome Web Store and download Hotspot Shield VPN. Then, you'll be able to go anywhere online, including blocked sites, in safety.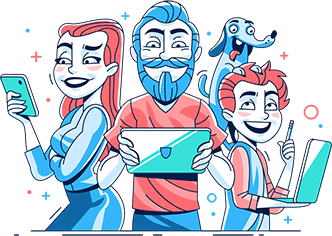 Download Hotspot Shield VPN. It's Free!
Join over 650 million users already enjoying absolute Internet Freedom around the world by downloading Hotspot Shield VPN.