VPN for PayPal
VPNs offer a secure way for you to access any website on the Internet with complete privacy. Opting to use a VPN on financial websites means that you'll be passing all of your sensitive information through a VPN tunnel, keeping it safe from prying eyes. And since many retailers complete their financial transactions by using PayPal, VPN services can give your information an extra layer of security when you shop online, protecting both you and the merchant.
Financial Information Collected By PayPal
PayPal can act as a treasure trove of your financial data, since the company collects information including your:
Bank account details, including routing and account numbers
Credit cards
Email addresses
Physical addresses
If this information fell into the wrong hands, it could be devastating, which is why it's important to take every possible step to protect your financial information by downloading and using Hotspot Shield as your VPN. PayPal is safer to use when you have Hotspot Shield by your side.
Access PayPal Through Hotspot Shield for Risk-Free Online Shopping
While PayPal takes care of its merchants and customers by providing purchase protection and anti-fraud policies, you can reduce your chances of having your information stolen or misused when you use a reliable VPN for PayPal.
Using our VPN for PayPal will allow you to:
Make safe purchases while using public Wi-Fi networks
Encrypt important information like your PayPal user name and password
Ensure that you remain anonymous to anyone who wants to snoop on your data
Choose the Right VPN for the Best Protection Anywhere
Some VPNs only employ a handful of servers located in a few countries. This can present problems when users travel and need a specific regional IP address when logging onto financial websites, like banks or PayPal.
Fortunately, you can use an IP that looks like it comes from your home country even when you're away when you use our VPN. PayPal can then recognize your new IP address as legitimate and allow you unrestricted access to your account. With Hotspot Shield, you don't have to worry about losing access to important sites when you travel.
Paying for a VPN Through PayPal
Since both Hotspot Shield and PayPal are trusted by millions of people, it only makes sense that some people who want to use our VPN will want to pay for our services securely through PayPal. VPN service providers often overlook the importance of offering PayPal as a secure payment method for clients who want to protect their privacy, but at Hotspot Shield, we realize that if you're in the market for a VPN, you're probably also interested in paying through a secure and trusted online payment system. That's why we're happy to accept payments through PayPal. You can even manage your subscriptions to our services through PayPal, which gives you extra convenience.
Risk-Free Trial Period
We're committed to proving that our VPN provides the safety and security that you need when you do business online. That's why we offer a free trial of our services, and we also back our VPN with a money-back guarantee. Download Hotspot Shield today and find out why hundreds of millions of others rely on us to keep them safe online.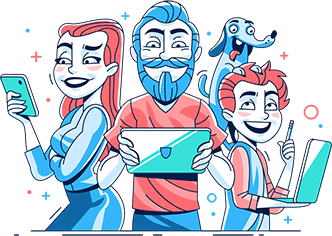 Download Hotspot Shield VPN. It's Free!
Join over 650 million users already enjoying absolute Internet Freedom around the world by downloading Hotspot Shield VPN.