Setting Up a VPN on a Router
It's crucial that you have as much security as possible when connecting to the Internet, which is why many people have realized that they need a VPN. The next step is choosing whether you'd rather get a VPN router or use a VPN client on your devices. Learning how to set up a VPN on a router can be a challenge, but is it worth it? Examine the pros and cons of setting up a VPN router before you make this important decision.
Reasons Why People Set Up a VPN Router
For the devices going through the router, VPN setup on each one is not needed.
Setting up a VPN router gives you an all-in-one connection. Every device uses the same secure network channeled through your router.
Router Options and Setup
You'll need to have one of three types of routers to be able to set it up with a VPN. They are:
A compatible router that you can install DD-WRT firmware on. This firmware is an open-source file that enables you to have more control over your router's settings. Not all routers are compatible with this firmware, though. Check to be sure yours is suitable for flashing.
A router that already has the DD-WRT firmware installed on it, so it would only need a VPN to be set up.
A router that already has a VPN client installed on it.
Purchasing ready-made routers is the most convenient way to go, as configuring a router to work with a VPN can be a big hassle: You'll need to configure the router firmware itself, then install the VPN software onto it, and then configure the actual VPN itself.
Why Is Setting Up a VPN Router Not the Best Idea?
Channeling a VPN through the router can slow down its performance, especially if there are too many devices connected to it.
You may be blocked from certain websites based on the server your router is connected to.
Getting VPN routers set up can be pretty complicated. You will need to configure many settings to make your service work efficiently, even if you buy a ready-made VPN router. There are many guides out there that show you how to set up a VPN on a router, but it's a complicated process that's easy to mess up, which could be harmful to your device.
Take the Hassle-Free Approach With a VPN Client
Whether or not you choose to use a router, a VPN setup is necessary to ensure maximum protection for your data and your privacy. Rather than set up a VPN router yourself, there's an easier way to safeguard your information online: Download Hotspot Shield VPN. Our simple software is free, and you won't have to wade through complex instructions to get started. You can use our client easily on each of your devices to hide your IP address, encrypt your sensitive data, avoid tracking of your online activity, and access blocked websites, without worrying about harming your router. Download our risk-free VPN client to get your privacy back into your own hands.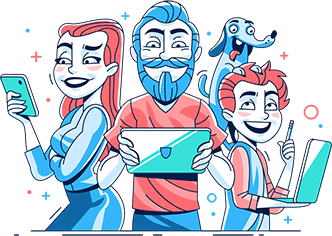 Download Hotspot Shield VPN. It's Free!
Join over 650 million users already enjoying absolute Internet Freedom around the world by downloading Hotspot Shield VPN.