Miniclip Unblocked

Social Media and online gaming combines to create a community feeling, and provide users with a sense of belonging and an additional amount of interactivity. Many people enjoy interacting with other users, competing against them, and trying to beat their friend's high scores etc. Due to this fact, various online gaming websites combine elements of social media together with the games they provide to create an in-depth experience for their users.
Miniclip is one such website and is one of the most popular free online gaming websites available today. This website is often blocked by network administrators due to the nature of its content and how the site can be used. It is possible to bypass security restrictions however and this article will explain how.
What is Miniclip?
Miniclip is one of the largest resources for online games in the world. Created in 2001 as a private company, the popularity of Miniclip grew quickly due to its ease of use, and the wide variety of available games. Miniclip makes use of a social system that allows players to create their own profile, gain awards and achievements, and compete in global leaderboards.
In recent years, Miniclip content has become available on various other platforms including the Wii and Xbox, and it is also possible to embed Miniclip games into a website using a pre-created sequence of HTML code. The variety of games available on Miniclip is huge and genres range from puzzle, shooter, sport, and cards, to RPG, Role Playing, and Real Time Strategy.
Why might Miniclip be blocked?
As stated above, online gaming websites are often a prime genre of site that is blocked. Online gaming is seen by many as a pure leisure activity that should not be entertained in a working environment or at school. Network administrators will look unfavorably on the additional bandwidth and server requirements that may be required when people are using such websites – They may not want to risk damaging the overall performance of their system.
Finally, there is no guarantee that online gaming websites are safe – historically, there has been instances where gaming websites have covertly installed third-party software or even malware on user's devices.
How can you unblock Miniclip?
If you can't live without your daily online gaming fix and want to keep that number one spot on the leaderboard, there are means of bypassing security blocks on Miniclip. Firstly, you could try using an online proxy service. A proxy service will retrieve website data on your behalf meaning that you never have to connect directly to Miniclip. In essence, you will connect to the proxy service, enter the address of the website you wish to visit, the proxy will then retrieve the site and display it in your browser.
Alternatively, proxy websites are also often blocked; therefore, a backup plan is advisable. Consider using a VPN service as a viable alternative method. Using a VPN service, you will connect to the internet through a secure VPN tunnel and bypass any network imposed security restrictions. Furthermore, a VPN service provides additional security as all incoming and outgoing data is encrypted.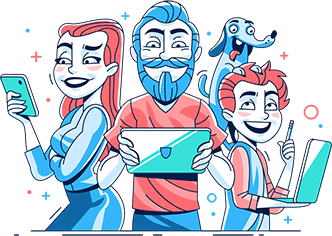 Download Hotspot Shield VPN. It's Free!
Join over 650 million users already enjoying absolute Internet Freedom around the world by downloading Hotspot Shield VPN.