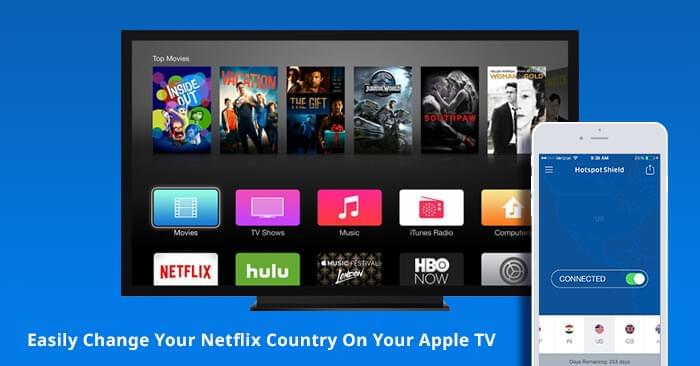 How to set up a VPN on your Apple TV to watch Netflix
Pop culture fans have embraced Apple TV, a set-top box that turns your television set into a streaming media player. Enthusiasts love that Apple TV lets them take control of their viewing and binge watch all of their favorite content from popular streaming services like Netflix. But why limit yourself to the movies and TV shows available in your local area? With a virtual private network (VPN), like Hotspot Shield, on your iPhone, you can maximize your Netflix library and enjoy first-class content from all over the world.
Make Sure Your Devices Are on the Same High-Speed Network
Your Apple TV and iPhone must operate on the same Wi-Fi network to "talk" to one another. Make sure your iPhone is using your home Wi-Fi, rather than your cell phone provider's 3G or 4G network.Apple TV
It's also best to use a high-speed network for this process, as the VPN might slow your Internet speed a little. Using a high-speed network will make sure your stream doesn't buffer.
Enable AirPlay on Your Apple TV
Apple TV's AirPlay Mirroring function allows you to take what's on a compatible device screen, such as your iPhone, and transmit it wirelessly to the television connected to your Apple TV. Enable this feature using the Apple TV settings. In the settings menu select AirPlay, and then turn the feature on.
Enable AirPlay on Your iPhone or iPad
iOS AirPlayAirPlay must also be activated on your iPhone. To do this, swipe up from the bottom of your iPhone's screen to access the Control Center. Once you're there, tap AirPlay. A selection of compatible devices will appear. Tap the name of the Apple TV you're using to access content. Then tap mirroring "on." At this point, what's on your iOS screen should appear on your TV screen as well.
Download the Hotspot Shield App
Firstly, download the Hotspot Shield app from the iTunes store. This app works with any iPhone running iOS 7.0 or later, as well as iPads and iPod Touch devices.

Sign Up for Hotspot Shield Elite
Hotspot Shield Free version comes by default with the US Virtual Location and a limited access to streaming content. When you to Hotspot Shield Elite (premium version starts at $2.08/month), you get instant access to 15+ virtual locations, faster speed, unlimited bandwidth and the ability to activate your licence on up to 5 devices simultaneously.
This VPN reroutes your traffic through the Hotspot Shield servers, which means your iPhone looks as if it's located in the country of your choosing. What's more, the VPN also encrypts your outgoing data, which protects you from any online spies and lets you access content available from different browsing locations.
Sign up for a new account, or if you're already a subscriber, sign in through the Hotspot Shield app before you start streaming.
Select Your Preferred Location
Netflix provides a different range of movies and TV shows to each of its international markets. These include local content, such as Aussie shows like "Jonah from Tonga" and "Rake" in Australia, as well as international blockbuster movies. Select your preferred virtual location through the Hotspot Shield app.
Sign in to Netflix
Finally, you're ready to start accessing all of that great international content. Open up the Netflix app on your iPhone if you already have a Netflix account. You may need to sign in, especially if it's been a while since you used the streaming service.
If you're new to Netflix, sign up for a subscription via your iPhone, download the app, and log in to your brand new Netflix account.
You will see the content that's available in the virtual location you selected. Simply search through it until something catches your eye and select what looks good. Your choice should start playing on your TV set. Then there's nothing left to do but grab some snacks and settle yourself in for a movie marathon or TV show binge.
Get the most from your Apple TV and Netflix account by setting up the Hotspot Shield VPN and unlocking a world of great movies and TV shows.