Install and Setup VPN: Windows 7
Using a VPN is a great way to protect your privacy and keep your information safe while you're online, but it can seem like a very technical and intimidating thing. It doesn't have to be that way, though. Whether you want the simplest approach possible or are more of a hands-on, do-it-yourself type, we can show you how to install a VPN on Windows 7 in just a few minutes.
What's the Easiest Way to Set Up a VPN for Windows 7?
When you download Hotspot Shield VPN for free, protecting yourself takes just three steps:
Download the software.
Right-click on the installer file and select "Run as Administrator."
Follow the prompts to finish the installation.
That's it. That's all there is to it. As long as you've got Hotspot Shield connected (which you can even set it to do automatically), you'll be protected, and the software will update itself automatically as needed.
What if I Want to Do a Manual VPN Setup?
Windows 7 users can also set up VPN service manually through the built-in Microsoft Agile VPN client. Here's how to set up a VPN on Windows 7 on your own:
First, make sure you have your VPN account details, including your user name, password, and server domain name and IP address.
To set up the VPN, Windows 7 users should open the Start menu, then use the search bar to look for "VPN." Select "Set up a virtual private network (VPN) connection."
Enter the server domain name and IP address and click Next.
Enter your user name and password.
Either choose the option to connect now or close the window.
When you want to manually connect to the VPN, click the network icon in the lower-right corner of your screen, then choose your VPN, enter your login details if they're not already there, and click Connect.
Why Do You Need to Use Hotspot Shield VPN?
Once you configure a VPN on Windows 7, you'll be able to go anywhere on the Internet without fear.
Using our VPN, you can go online from anywhere, even on unsecured public Wi-Fi, without worrying about anyone being able to see or steal your data, since all of your information will be fully encrypted.
We never log your identity, your online activities, or your IP address.
You'll be able to hide your IP address and replace it with one from a different location, allowing you to access websites that are blocked where you are.
Our security measures will detect and block more than 3.5 million malicious phishing and spam sites so they won't infect any of your mobile devices or computers.
Because we own all of the software, hardware, and networks that support Hotspot Shield, you'll enjoy faster and more stable VPN service with your Windows 7 device.
Need Help? We're Here for You
When you're ready to set up a VPN on Windows 7, we're here to provide support every step of the way. Browse our Help Center to find answers to common questions and troubleshooting tips, or contact us directly if you don't find the answer you're looking for. We'd be glad to help you figure out how to set up a VPN on Windows 7 and protect your privacy, bolster your security, and unblock online content from around the world. Try our service risk-free now and experience the benefits for yourself.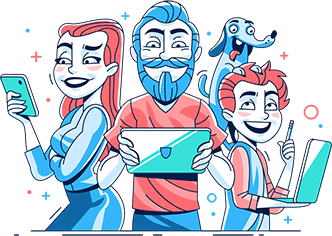 Download Hotspot Shield VPN. It's Free!
Join over 650 million users already enjoying absolute Internet Freedom around the world by downloading Hotspot Shield VPN.