Install a VPN
There's no question that installing a VPN can grant you instant freedom and privacy. But if you don't know how to install a VPN, taking advantage of these perks can seem out of reach. However, you don't have to give up on the idea of having greater security and access to blocked websites just because you're not tech-savvy. Just follow our advice and you'll be up and running in no time.
Basics of Manually Installing a VPN
The steps to manually set up your own VPN can prove tedious and challenging for average computer users. Setting up a VPN requires that you:
Find your IP address
Gain access to your computer's control panel
Create and configure your new VPN through the network panel
Manually enter your IP address into your newly created network
Use your IP address, user name, and password to access your new VPN
Many users find that they have trouble completing one or more of these steps, especially if they're new to networking or don't have many technical skills.
Simplify VPN Installation With Hotspot Shield
At Hotspot Shield, we realize that not all users know how to install a VPN manually or feel comfortable attempting it, and that's why we've created a better and easier way to get started with VPN services. Simply download our automatic installer and let us do the work for you.
Here's all you have to do:
Download Hotspot Shield VPN
Find the installer on your computer
Right-click on it
Run it as an administrator
Follow the easy-to-understand prompts to complete your installation
Our installation tool takes care of the details for you. Our software will even update itself automatically so you don't have to worry about keeping it up to date.
Install VPN Services for Protection On the Go
If you use a mobile device and want to protect your phone or tablet while you're out and about, we also offer versions of our VPN client that work with iOS, Windows, and Android devices. To start enjoying protection on your mobile device, simply access Apple's App Store, the Windows Phone Store, or Google Play to search for and download Hotspot Shield VPN.
Make Your Browser Safe
If you're looking for a simple and lightweight VPN, install our extensions and add-ons for popular Internet browsers. You'll get privacy, security, and unrestricted access to blocked content without having to download additional software. Just install Firefox's Hotspot Shield add-on or the Hotspot Shield Chrome extension to improve your browsing experience. Installing browser extensions only takes a couple of clicks!
Download and Install Hotspot Shield Today
Once you install Hotspot Shield VPN, you'll get a host of benefits, including:
Secure connections
Anonymous browsing
Encryption for your data
Unblocking of restricted content
Blocking of malicious websites
Increased safety when accessing open Wi-Fi networks
When you install a VPN client from Hotspot Shield, you'll quickly see why we're the top-rated VPN for performance and speed. Try it today for free and experience it for yourself!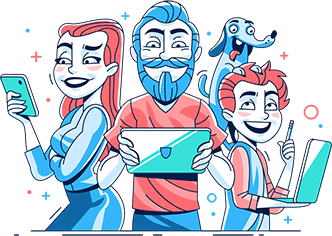 Download Hotspot Shield VPN. It's Free!
Join over 650 million users already enjoying absolute Internet Freedom around the world by downloading Hotspot Shield VPN.