How to Delete VPN on iPhone
Uninstalling from an iOS Device
A VPN is a Virtual Private Network that is used to protect your identity on your Smartphone when using public Wi-Fi or mobile networks. VPN's can help to secure your personal information by means of encryption and also used to change your location to allow the use of certain region specific apps or features anywhere in the world.
VPN's were historically used solely on computer networks, but now they have been developed for Smartphone's and tablets. Inevitably there may be times where you need to remove the VPN from your iPhone or iOS device; maybe you need to reset your iPhone, or maybe you need to solve some network issues with your provider. Whatever the reason, there are actually two ways in which you can do this on your iPhone or iPad which are both dependent on how you initially installed the VPN. By uninstalling the app, or by deleting its configuration profile.
Method 1 - Uninstalling the App
Today most VPN providers will distribute their product in the form of an app which you download from the Apple store and install. The easiest way of removing a VPN completely is to simply uninstall the app from your iPhone. This will remove any trace of it. To do this, do the following:
Locate your app in the menus.
Press and hold down on the app icon until all the items begin to "wobble".
Press the small X in the top left hand corner of the app icon that will appear.
Press the delete button when prompted.
Finished! Your VPN app is now deleted.
Method 2 - Deleting a VPN's Profile
A slightly order method of creating VPN's but still widely used is to create a VPN profile in your iPhone settings. Some VPN providers will allow you to create your own VPN in this manner as opposed to simply using all the in-app functions. Reversing this process is fairly straight forward too:
Open the Settings app from the menus.
Go to: General then Profile.
Find the relevant VPN profile (It should display the name of the app somewhere).
Press the red "Delete Profile" button at the bottom.
Finished! Your VPN profile is now deleted.
There you have it - Two simple and easy to follow methods to remove VPN's from your iPhone! Be sure to check out our other useful guides and tips.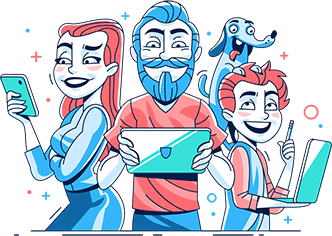 Download Hotspot Shield VPN. It's Free!
Join over 650 million users already enjoying absolute Internet Freedom around the world by downloading Hotspot Shield VPN.