California VPN
We have thousands of servers located across the globe, but we realize that some of our customers may need an IP in California. VPN services through Hotspot Shield offer you the ability to access the Internet using an IP address that reflects server locations in CA.
When you download and install our VPN, you can enjoy:
Encrypted data transfer
Unrestricted access to popular websites
Anonymous Web browsing, regardless of location
Protection from millions of malware threats
No matter where you are, protecting your online privacy is important and ensuring that you've encrypted your data necessitates the use of a VPN. California trust's Hotspot Shield to provide reliable service and ensure secure connections wherever life takes them.
Access Content From California: VPN Services Unblock Geo-restricted Websites
If you're from California and traveling to different countries, consider investing in our VPN services to gain or retain access to websites that may be locally restricted elsewhere. Hotspot Shield can help you stay connected by ensuring that you retain access to websites that require that you have a California IP to access them, such as:
Bank or financial institution websites
Music or video subscription services
Institutions of higher learning
VPNs can prove integral for both in-state students who decide to study abroad or international students who want to attend California universities. Hotspot Shield is especially useful when students want to access popular websites, including social networking platforms, that have been blocked or otherwise restricted.
California VPNs: Good for Business
Whether you work for a large corporation or have an entrepreneurial spirit, VPNs provide essential benefits inside and outside the workplace. For many business owners and workers, security and unrestricted access rank as the best advantages provided by a VPN. California business owners, in particular, understand the realities of the modern-day workplace and the need for continued protection against digital threats.
Should you do most of your work in an office or traveling and connecting from a remote location, when you use a VPN, you can securely access:
Corporate databases
Online workstations
Sensitive information like client lists and data
A VPN can also allow you to manage your website, if you run an ecommerce website and need to ensure that your digital operation runs smoothly. Using our secure VPN services can ensure that your business remains protected, able to accept payments, and stays up and running - regardless of whether you're at home or behind a desk.
Make VoIP Calls Through a VPN: California Residents Save On Phone Bills
As an added benefit, you can stay connected to your friends, loved ones and business associates by making calls through VPNs. With a VPN, you can enjoy private communications and:
Unblock Skype and Google Hangouts
Call individuals without having to dial long-distance phone numbers
Encrypt voice, video, and SMS messages for safe communications
Keep voice and video connections fast and reliable
Using our VPN can help you make international calls for a low cost - or for free - depending on your subscription service to VoIP clients.
Invest in the Best VPN When You Download Hotspot Shield
At Hotspot Shield, we're trusted by half a billion users in 200 countries - and we're growing fast!
We're confident that our VPN software can provide security and stability comparable to anything tech giants in Silicon Valley produce. That's why we offer a risk-free, 30-day money back guarantee on our products. After determining which version of our client is best for you, download our VPN to learn why the media heralds us as the best California VPN!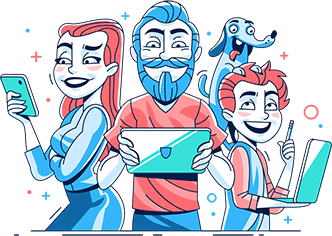 Download Hotspot Shield VPN. It's Free!
Join over 650 million users already enjoying absolute Internet Freedom around the world by downloading Hotspot Shield VPN.