How To Keep Children Protected Online: Internet Safety For Kids
In today's digital world, children need access to the internet to learn and grow. But the internet can still be a fairly daunting and dangerous place for children, especially if they don't have guidance. As adults, our role is to protect children online and educate them on the potential risks of poor internet use. Mistakes can lead to viruses, computer damage, or even embarrassment. Take these stats from a McAfee study for example: 86% of kids think social sites are safe to post their email address and phone number to, and 54% of kids say that their parents aren't involved in their digital lives. To avoid danger and poor outcomes, parents have to monitor their children's internet use and create safe guidelines. Here's how.
What Is Safe Internet Use
The first thing parents need to understand is what safe internet use actually is. Children should know that personal information like phone numbers, addresses, or parents' contact information is off limits when it comes to online sharing. Criminals can pretend to be friendly online to get personal information or photos from children. Children shouldn't share details about themselves online unless they get an adult's permission. If a child feels uncomfortable online, they should log off immediately and tell an adult.
What Children And Parents Need To Be Aware Of
Children and parents need to be aware of the potential dangers online. There are "dirty" sites aside from pornography, such as those that promote drugs, weapons, or cheating in school. There is the potential for harmful contacts, such as a pedophile trying to instill enough trust in your child to meet them in the real world. Cyberbullying and hacking are also real risks for children. Too much internet can even cause information overload or sitting sickness. Parents need to be aware of what their children are doing online, and keep them aware of the risks.
General Tips For Parents
Even though the internet can be a tricky place for children, the good news is that parents have ways to keep their children protected. They can install parental control software that allows parents to determine which sites are off limits and how much time a child can spend on the internet. The parental control software can take screenshots, save passwords, and even track keystrokes. For most children, this isn't necessary, but in difficult cases, it can prove helpful. You should also install security software. These days, firewalls and antivirus software aren't enough. You must keep your child protected by locking down their online communications with Hotspot Shield VPN. Hotspot Shield keeps your child's online communications anonymous and prevents hacking from third parties.
How To Avoid Cyberbullying
Cyberbullying is a difficult issue for children, but one that is all too common. Children often face cyberbullying through social media such as Facebook or Snapchat. It can even come in the form of rumors about someone else, such as a classmate. Sometimes cyber bullies send private photos to other people to try and embarrass a particular child. If a child is the victim of a cyberbully, or if he or she sees a cyberbully targeting another child, they should contact an adult immediately. If an adult sees the behavior, they should step in. If the behavior still doesn't stop, make sure to save all messages and images to report to the child's school or to the local police.
Establishing Rules Early On
Parents should establish rules for their children online as soon as they start accessing the internet. Some families utilize a computer station in a common area of their home. Some families set up specific times where children are allowed to use the internet. You should discuss what sites are acceptable to visit and what sites are not, so children know to stay away from private chat rooms and other areas where they can be approached by strangers.
Use Creative Passwords
Make sure your child doesn't use easy to remember passwords. You want them to use creative passwords such as acronyms, song lyric snippets, or nonsense words to make sure that their login credentials aren't predictable.
Don't Forget To Logout
Anyone can forget to logout, but children don't have much experience online and are more likely to forget when they visit social media sites. Not logging out could give the next user access to your child's social media accounts, email accounts, or bank accounts, especially if they logged in on a public computer at a school or a library. Always teach your kids to logout after each session.
Always Read The Fine Print
Make sure that your children read the fine print and learn the rules of the sites that they are visiting. Plenty of internet users have run into Facebook privacy issues because they didn't read the rules about Facebook's privacy and security policies. Make sure your children know the rules for commonly used sites like Facebook, Instagram, Snapchat, and Twitter.
Kids' Rules for Online Safety
Etiquette for Kids in the Digital Age
Stomp Out Bullying: Don't Be Cyberbullied
Protect Yourself From Cyberbullying
Kids' Safety Tips
Internet Safety for Kids
Internet Safety Tips for Kids (PDF)
Internet Safety for Kids (PDF)
Playing it Safe While Playing Online (PDF)
Internet Safety
Internet Safety Tips for Children and Teens
Five Internet Safety Tips for Kids (Video)
Internet Safety for Parents and Kids
Overview of Internet Safety
Overview of Online Safety
Internet Safety Pledge
Webonauts Internet Academy
Cyberbullying Information
How to Take Action to Prevent Bullying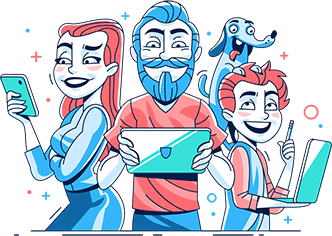 Download Hotspot Shield VPN. It's Free!
Join over 650 million users already enjoying absolute Internet Freedom around the world by downloading Hotspot Shield VPN.