VPN Venezuela
Accessing Streaming Video Sites like Netflix, Hulu, and Spotify from Venezuela with a VPN has never been so easy.
If you are still letting geographic restrictions keep you from watching US streaming websites like Netflix, Hulu, and Spotify in Venezuela, then you are way behind the curve. People all over the world are unblocking restricted content every day by using a VPN to remove geo-location blocks. And if you think you aren't computer savvy enough to do the same thing – think again. Using a VPN in Venezuela is a quick and easy way to get unrestricted access to TV, movies, and music on the web. We've got all the information you need to get instant access right now.
Connecting with a VPN from Venezuela is the Best Way to Access US Streaming Television
You don't have any more excuses for allowing geographic location blocks to stop you from being able to watch your favorite shows on Netflix. Hotspot Shield VPN gives you quick and easy access to all blocked content. Whether you are looking to access blocked TV, movies, music, or anything else, Hotspot Shield is a simple download that will remove all geo-restrictions so you can enjoy free, unfettered access to the best entertainment content on the web.
How Does Hotspot Shield VPN Get Me Access to US Streaming Websites?
When you connect to a website via a "Virtual Private Network" or VPN, you true location is not actually revealed to the website. What a VPN does is actually connect your computer to a broader network of computers that are able to access the internet and connect to individual websites through a single IP address. The IP address of the network will correspond to where the servers of the network are located - not from the physical locations where any of the individual computer that comprise it are located. What this means in practice is that when you connect to a website via a VPN, you are actually requesting that the VPN network connect to the website on your behalf, and then send the information it receives back to your computer. This why by using a VPN you are able to hide your true location. If you use a VPN that has an IP address in the US, your request to watch streaming video will seem to come from the US – eliminating the geo-location block and giving you instant access to the content.
A VPN gives you a secure connection from Venezuela
A VPN removes the geo-location blocks in Venezuela that are keeping you from watching your favorite US Streaming content.
Your security is always protected. Get a completely anonymous connection to the internet from Venezuela when you use a VPN.
You don't ever have to worry about your personal information and other sensitive data getting leaked.
All devices provide a secure connection - PC, Mac, iPhone, Windows phone, or Android.
It's a breeze to download. Get online quickly with fast installation.
The time to access Netflix Hulu, and Spotify from Venezuela is now. Don't wait another moment to get a VPN.
With Hotspot Shield VPN, accessing blocked web content from your PC, Mac, Windows Phone, Android or iPhone has never been easier. There are also Chrome and Firefox extensions available as well.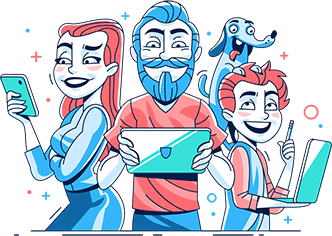 Download Hotspot Shield VPN. It's Free!
Join over 650 million users already enjoying absolute Internet Freedom around the world by downloading Hotspot Shield VPN.