VPN Sweden
Sweden and Internet Censorship
Sweden prides itself on its openness and allowance of free speech inside the country and on the internet. However, Sweden does have restrictions on free speech, such as hate speech and libel. Sweden's courts have also blocked websites with reports pertinent to legal cases in some instances. Although Sweden is one of the better countries in the world when it comes to online censorship, there are still some websites that Swedish internet users can't access. For that reason, many people in Sweden have turned to using virtual private networks. Virtual private networks allow users to access any website that they want. For those who distrust the government, they can take solace in the fact that VPNs protect your IP address as well as shield all of your online activity. When you use the internet with a VPN, you are completely anonymous, and no one else is able to access the information that you've viewed or the websites that you have interacted with.
How a VPN Can Help Swedish Internet Users
Swedish internet users who want a completely private internet experience should feel right at home using a VPN. Virtual private networks provide a secure, private internet connection. They encrypt all of the information that passes back and forth on the connection, and they allow users to access websites that have been blocked in a specific geolocation. This is a great tool for internet users who are trying to access sites that have been blocked at a school or a place of work. In some cases, social media, video streaming sites, and news sites are blocked in such locations. VPNs help internet users get around those burdensome restrictions.
Making Your Online Experience More Private and Secure
Virtual private networks are a great way to make sure that your internet connection is secure and that all of your online communications are private. VPNs offer encryption, which is important because identity thieves, hackers, and other fraudsters are becoming more sophisticated every year. If you don't protect your device and your online connection while you surf the web, you could be putting your personal and financial information at risk. This is especially true if you are connected to the internet via public Wi-Fi. Now more than ever, public Wi-Fi is a risk for those without secured internet connections. Public Wi-Fi hotspots are increasingly frequented by hackers who are looking for people who don't secure their internet connections. People who access their financial information at a public Wi-Fi hotspot could be unknowingly providing all of that critical information a hacker, who could then sell that information or use it to open up new accounts. VPNs secure your online experience so that you don't have to fear hackers and identity thieves. The secure connection provided to you by a VPN means you can access the internet anywhere you want without fear of hacking or spying by third parties.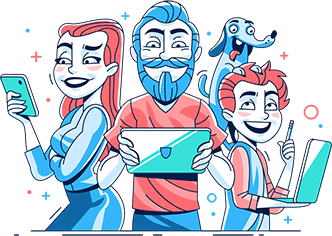 Download Hotspot Shield VPN. It's Free!
Join over 650 million users already enjoying absolute Internet Freedom around the world by downloading Hotspot Shield VPN.