VPN in Latvia
Why you need a VPN in Latvia
The small Baltic country of Latvia borders Estonia, Lithuania, Russia and Belarus. Its history and some of its identity has been tied to Russia for generations, but in the last two decades, Latvia has truly found its own stride. Today the country is known as a modern, innovative country with a low cost of living.
This small population of 1.5 million is internet savvy, with internet penetration rates estimated at 80 percent of the country. As access to internet is part of daily life for most citizens, users must be aware of the risk inherent in going online. Cyber threats like hackers and identity thieves are always looking for susceptible internet connections to steal private information, so it's vital for Maltese citizens to take precautions.
Content blocking is another issue internet users in Latvia face. Many streaming content sites are bound by geopolitical licenses – so countries that don't have an agreement with certain providers are missing out on content. Small countries are inherently at risk, and Latvia is no exception to this.
Today, the country promotes and upholds freedom – perhaps as a result of years under Soviet control. There is little sense of censorship or government monitoring. In fact, international watchdog Reporters Without Borders scored Latvia in the top 25 of all countries in their 2016 World Press Freedom Index.
The watchdog group is careful to point out the different in media freedom depending on the language. Latvian-language media are generally very independent. But the one-third of the population who speak Russian must rely on Russian media – which means they are likely getting more propaganda instead of news.
How a VPN Works
Internet users in Latvia should take precautions against online threats like hacking and identity theft. Technology offers many workarounds, but VPNs are the most reliable software in the industry.
VPNs, short for 'virtual private network', have many benefits. The primary benefit to Latvians is that the software encrypts all data. This means personal and financial information, browsing history, and communication are much more difficult for individuals to hack. Using a VPN significantly lowers the likelihood of identity theft.
VPNs work by assigning an IP address from a country other than the user's current location. Content websites base their licenses on IP address, so by utilizing a different IP address, users can access universal data, instead of only what is offered in Latvia. For internet users in Latvia who are concerned about Russian-controlled media, VPNs also offer the ability to access other news outlets.
Hotspot Shield – the best VPN in Latvia
Stay safe online using a VPN. An industry leader, Hotspot Shield VPN has users in every country, totaling more than 650 million users worldwide.
Benefits include:
Access universal streaming content
Encrypt your personal information
Protect your privacy and identity with anonymous browsing
Use VPN on your smartphone to save money on phone charges
Forget you're using a VPN with our simple, easy interface
Choose from free or paid access to Hotspot Shield, the best VPN in Latvia.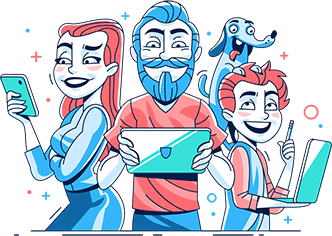 Download Hotspot Shield VPN. It's Free!
Join over 650 million users already enjoying absolute Internet Freedom around the world by downloading Hotspot Shield VPN.