VPN Iran
Iran and Online Censorship
Iran, like many of the countries located in the Middle East, has heavily engaged in online censorship for years. Iran has looked to modernize its economy, and as it has done so, the country is reintegrating into global trade. However, that doesn't mean that the amount of websites that Iran has blocked will decrease any time soon. In 2012, Iran had almost one third of the websites on the internet blocked at any specific time. Major social media sites such as Twitter, Facebook, and YouTube have all been blocked in Iran at one point or another. Iran has also engaged in the blocking of popular email services, making it more difficult for those inside of the country to communicate effectively with others in the outside world. Iranians that want to continue to access the full range of the internet without fear of political repercussions use virtual private networks. VPNs allow Iranian internet users the ability to go where they want online without the government prying on their activities.
How a VPN Can Help Iranian Internet Users
Virtual private networks provide Iranian internet users with several strong features. The first feature is the ability to keep communications completely private with encryption and a secured connection. The second is the ability to access sites blocked by geographical location. The third is the ability to keep online activities private. All of these features are of great use to Iranian internet users. There is a real fear of government intrusion into the internet, but VPNs allow Iranians to access sites that have been blocked inside of the country, as well as interact with political dissidents, without adverse political ramifications.
Making Your Online Experience More Private and Secure
In a country like Iran, having a secure, private online connection is absolutely critical. That is one of the biggest reasons why the popularity of virtual private networks has exploded in recent years. The privacy provided by the tool makes it second to none for keeping prying eyes away from your personal information, financial data, and online activities. When you surf the web in Iran without using a VPN, your online activity could be tracked by the government. If you frequent "undesirable" websites or if you view political information that is critical of Islam, you could be severely punished. Government tracking is a big enough problem, but Iranians accessing the internet from public Wi-Fi also have to worry about the possibility that hackers might be targeting them to steal important financial, personal, or business data. Accessing the internet from public Wi-Fi with an unsecured connection leaves you vulnerable to hackers. You don't have to put yourself in that position. A VPN eliminates the ability of hackers to access your data or for third parties to view your online activity. The privacy provided by a VPN is why more Iranians are using the tool for their online needs.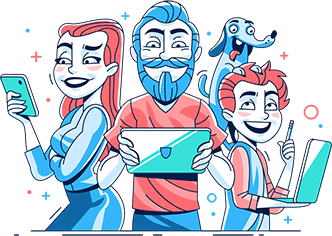 Download Hotspot Shield VPN. It's Free!
Join over 650 million users already enjoying absolute Internet Freedom around the world by downloading Hotspot Shield VPN.