VPN in Ecuador
Accessing the internet in Ecuador
If you've spent some time in Ecuador, you may have gotten this message when trying to load a website: "The content is not currently available in your country."
As a popular destination for tourism, Ecuador has both tourists and locals accessing the internet on a daily basis for tasks like getting the news, talking to friends, and working. The first issue with the internet in Ecuador is that a lot of content may be blocked to the country. The second issue is that the internet is still behind in terms of offering quality, high-speed service. This can lead to weak internet connections, and sometimes outages in general.
Another concern for internet users in Ecuador is the apparent increase in government control of the media. While this may not affect average internet users on a daily basis, the international watchdog Reporters Without Borders stated in 2016 that the government has become increasingly involved in media control since 2006, when current president Rafael Correa started his term. Journalists and media outlets have been threatened with fines or getting shut down for criticizing the government or exploring sensitive topics.
Using VPN in Ecuador to improve internet quality and content
Plenty of online content providers, especially websites that stream content like Netflix or Amazon, have geo-political blocks on many countries. This means users in those countries have access to only limited content, like movies or shows. VPNs fix this easily.
Websites are able to block content based on IP addresses, which typically indicate what country a computer is located in and accessing the internet from. VPN software, which stands for 'virtual private network', alleviates this issue by assigning a computer an IP address for a different country. Using a VPN in Ecuador means you can access content that otherwise may be blocked.
VPNs also help protect a user's online identity and personal information by encrypting the data. This means cyber threats like hacking are significantly less likely, and the government is unable to block or censor what citizens or journalists may research or share.
Hotspot Shield – the best VPN in Ecuador
Using a VPN is the easiest and best way to access any data and media online, making surfing the internet from Ecuador a much better experience. With more than 650 million users around the world, with users in every country, Hotspot Shield is the best VPN in Ecuador.
Hotspot Shield comes with plenty of benefits:
Access streaming content unrestricted, instead of being blocked
Secure your WiFi connection and encrypt your personal information so you can safely surf the internet, no matter where you are
Protect your privacy and identity with anonymous browsing
Use VPN on your smartphone to save money on phone charges
Forget you're using a VPN with our simple, easy interface
Improve your internet experience by using a VPN in Ecuador – download Hotspot Shield today for free, or upgrade for added benefits.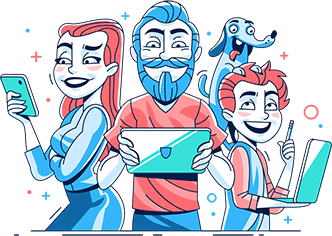 Download Hotspot Shield VPN. It's Free!
Join over 650 million users already enjoying absolute Internet Freedom around the world by downloading Hotspot Shield VPN.