VPN Denmark
Denmark and Online Censorship
Denmark has an extensive history of blocking file sharing sites within the country's borders. In recent years, Denmark has also blocked video streaming sites and popular torrent sites. Denmark was the first European country to legally compel an internet service provider to block The Pirate Bay, a popular file sharing site. Since then, Denmark has worked to attempt to push users towards "legal content," sites where the rights holders often try to make users pay additional fees. Denmark has a history of online censorship, but it is still not in the league of countries such as China, which has blocked access to thousands of websites. Still, Denmark's citizens are at the whims of its government when it comes to internet access. Whenever the Danish government decides that a website should be blocked, individual users have little immediate recourse. That's where virtual private networks, or VPNs, come in.
How a VPN Can Help Denmark Internet Users
Virtual private networks help internet users located in Denmark by allowing them to access content that is blocked in their country. VPNs have three major defining features: they shield your IP address, which allows you privacy while you search the web, they encrypt your communications, so that others who try to access your activity cannot decipher it, and they allow you access to websites that are blocked in your specific geolocations. Being able to access websites that have been blocked in Denmark is absolutely critical for Danish internet users. This allows users to access blocked video streaming or file sharing websites at their leisure, instead of waiting for the government to change their minds about blocking the site. VPNs allow Danish users the ability to gain full control over their online experience, instead of waiting for the government to change the way they deal with online censorship. Even if you simply want to view a website that might be blocked at your local school or office, such as social media, you can do that with the help of a VPN.
Make Your Internet Experience More Private and Secure
Making sure that your online connection is secure is very important. Hackers and identity thieves are always looking for new ways to get into your computer or mobile phone, and if you aren't careful, they might be able to break through. VPNs keep your device and online activity safe by providing a secure connection along with encrypted communications. VPNs provide a secure connection no matter where you are located. Even if you are located in a public area, using public Wi-Fi, your VPN client will still provide you with a secure connection that hackers and identity thieves can't break through. Even if they did, the encryption wouldn't allow them to see any of your personal or financial information. This information is also shielded from any spying eyes, even from those of internet service providers, advertisers, or government agencies.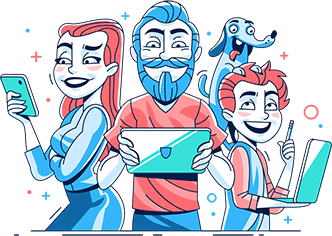 Download Hotspot Shield VPN. It's Free!
Join over 650 million users already enjoying absolute Internet Freedom around the world by downloading Hotspot Shield VPN.