VPN in Costa Rica
Accessing the Internet in Costa Rica
Costa Rica is a popular country and welcoming country in Latin America. Whether you're a native or visiting – or even moving there – you'll probably want access to the internet. The good news is that it's easy to access, and the government embraces and promotes freedom of speech and freedom of the press. You won't have difficulties surfing the net for local news or culture, and the government does not censor most websites. In fact, international watchdog Reporters Without Borders placed Costa Rica at number 6 on their 2016 World Press Freedom Index! This may surprise you, owing to the region's recent instability, but Costa Rica is a great exception. Like most countries around the world, though, you may have issues accessing streaming content, purchasing from abroad, or even securing your privacy and identity. Make sure you're taking responsibility for your identity, especially when using WiFi in the country. If you live in Costa Rica, you'll have plenty of choices when it comes to internet service providers. But be warned that service can sometimes be spotty, and it may not be as high-speed as you're used to.
VPNs Improve Internet Access in Costa Rica
With more people relying on daily internet access to take care of routine habits, work, and staying in touch, it's important to make sure your internet access is unrestricted and encrypted. Though access to the internet is easy to get in Costa Rica, a good amount of worldwide content may be blocked. This is because content sites, especially streaming website, may block content to users in Costa Rica. This can cause on issue for online content and for ordering goods online. A great workaround is software called VPN, or virtual private network. Normally, when you access the internet, your computer is assigned an IP address that identifies your country. When websites like Amazon or Netflix don't offer certain content to your country, you're stuck. But VPN software can make your IP address reflect that you're in a different country, so you can access that blocked content. Using a VPN is also vital to ensuring your privacy and identity online. Anyone using WiFi is susceptible to hacking, which risks your entire identity, like personal data and financial information. VPNs encrypt the data you're accessing over a WiFi connection, so you're able to pay bills, read the news, and share information without cyber threats.
Hotspot Shield – the best VPN in Costa Rica
Using a VPN is the easiest and best way to access any data and media online, and purchasing online goods you may not be able to otherwise. With more than 650 million around the world, and representation in every country, Hotspot Shield is the best VPN for users in Costa Rica. Hotspot Shield comes with plenty of benefits:
Access streaming content unrestricted, instead of being blocked based on your location
Secure your WiFi connection and encrypt your personal information so you can safely surf the internet, no matter where you are
Protect your privacy and identity with anonymous browsing
Use VPN on your smartphone to save money on phone charges
Forget you're using a VPN thanks to our simple, easy-to-use interface
Experience la pura vida when it comes to using the internet in Costa Rica – download Hotspot Shield today for free, or upgrade for added benefits.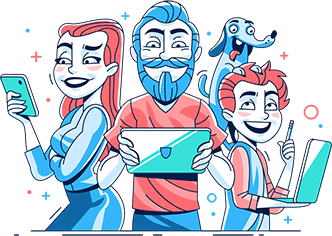 Download Hotspot Shield VPN. It's Free!
Join over 650 million users already enjoying absolute Internet Freedom around the world by downloading Hotspot Shield VPN.