VPN in Bulgaria
Why you need a VPN in Bulgaria
Most European countries are recognized as bastions of learning and free speech and media. This freedom typically extends to the use of internet, with users able to access most things. Bulgaria, a Balkan state that joined the European Union in 2007, is the exception to this ideology.
While the country's laws technically provide for freedom of speech and freedom of the press, Bulgarians understand that the law doesn't hold up in practice. Reporters Without Borders, an international watchdog for protection of free speech, rates Bulgaria at 116th place on its 2016 World Press Freedom Index, which ranks every country in the world. This is the lowest position of any country within the European Union.
While the end of communism came nearly 25 years ago, political corruption has spread – with many citizens worried at how far the corruption has eeked into its freedom of press and access to the internet. Why doesn't the government enforce the laws regarding freedom of speech? Since communism fell, the Bulgarian government has been dominated by collusion across media, oligarchs, and politicians.
For instance, the New Bulgarian Media Group owns and oversees the publication of six newspapers and operates a national TV channel. The owner of this media conglomerate is also the head of the National Intelligence Service.
Bulgaria's Commission for Financial Supervision "polices" the media by imposing fines and demanding journalists reveal their sources. This prevents the journalists from exposing issues on the country's banks and regulatory processes, allowing more corruption and collusion.
Staying connected to media with a VPN in Bulgaria
While the government is mired in corruption, Bulgaria has continued to modernize, with plenty of users accessing the internet to accomplish daily tasks. For savvy internet users, including many programmers, using a VPN is a regular part of life, circumventing the news that the government has altered. A VPN, or 'virtual private network', allows users to appear they are accessing the internet from another country. In this way, Bulgarian censors can't block their access.
VPN technology allows Bulgarian users to access news from other countries that encourage appropriate journalism. Further, journalists themselves utilize VPN software to spread awareness of the country's corruption via international news sources.
The government has also encroached on individuals' rights to free speech online. The anonymous browsing feature on VPNs allows users to share thoughts without risk.
Hotspot Shield – the best VPN in Bulgaria
Using VPN software is the most reliable way to access blocked news in Bulgaria. With more than 650 million users worldwide, and from every country in the world, Hotspot Shield is the best VPN for users in Bulgaria.
Use Hotspot Shield in Bulgaria for many benefits:
1) Access news from journalists and websites that haven't been altered by the government
2) Protect your identity with anonymous browsing
3) Secure your WiFi connection so you can safely surf the internet, no matter where you are
4) Avoid location-based content blocking so you can stream any content
5) Save money on phone charges when you use VPN on your mobile device
6) Enjoy a simple, easy-to-use interface so you'll forget you're using it
Choose from free or paid access to Hotspot Shield, the best VPN to use in Bulgaria.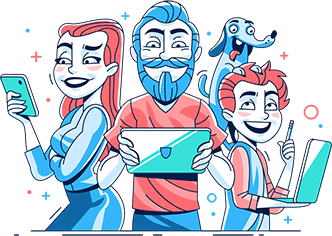 Download Hotspot Shield VPN. It's Free!
Join over 650 million users already enjoying absolute Internet Freedom around the world by downloading Hotspot Shield VPN.