Hotspot Shield Premium - Malware Protection
Malware protection transforms Hotspot Shield into a complete internet security offering
By drawing on a database of 3.5 million known and suspected web domains, Pango offers protection from four basic types of Malware sites.
Malware Sites
(Trojan sites deliberately created to infect your computer with malware.)

Illegal or Phishing Sites
(Sites which attempt to steal your private information, such as passwords, logins, SSN, credit card numbers, etc.)

Infected Sites
(Legitimate sites which deliver malware to your computer or mobile device without the site owner's knowledge.)

Spam Sites & Content Farms
(Sites created to earn a share of ad revenue which have little useful purpose and waste your browsing time.)
Hotspot Shield malware protection is available on all platforms.
including PC, Mac, Apple iOS (iPhone, iPad and iTouch) and Android (phones and pad devices). Regular updates to the malware database will ensure that Hotspot Shield remains one step ahead of online security threats at all times. It helps protect you from the latest threats, including the Flash Trojan virus on Mac.
Pango's free ad-supported product provides protection from the first category of malware. For full malware protection from all four categories, Pango offers its paid Hotspot Shield Premium product and its mobile products (Android and Apple iOS) , which detect known malware sites along with infected sites, phishing sites and spam sites. Available through subscription, Premium has no ads and also provides faster browsing. Hotspot Shield VPN for Android and iOS has the added benefit of compressing bandwidth and saving money on your data plan.
Hotspot Shield draws on a database of 3.5 million known or suspected malware sites.
More About Malware
What is malware and why should you be worried about it?
Malware, short for malicious software, is computer code designed to gather personal data, disrupt normal computer operation, or gain unauthorized access to your computer systems.
Malware includes a variety of hostile computer viruses, worms, trojan horses, spyware, dishonest adware, and other malicious programs. Malware can be unknowingly delivered to your computer or mobile device when visiting a malware site. Last year alone, malware cost U.S. consumers over $2.3 billion, according to a study commissioned by McAfee Labs.
Last year malware cost U.S. consumers $2.3 billion.
How does Hotspot Shield protect you from malware?
As you browse the internet, Hotspot Shield quietly works in the background to sniff out threats to your computer or mobile device. It compares the site you are about to visit to a database of 3 million known or suspected sites. If the site you are visiting is on this list, it will automatically show you a snapshot of the page and ask you if you want to continue at your own risk.
I already have anti-virus software for my computer, why do I need Hotspot Shield?
Hotspot Shield is the perfect complement to any anti-virus solution because while anti-virus protects users' computers and mobile devices, Hotspot Shield protects your entire browsing session.
What is the difference between the level of malware protection provide by the free Hotspot Shield product vs. the paid Premium, iOS or Android products?
The free, ad-supported Hotspot Shield product includes protection against one category of malware: known malware sites. The paid desktop and mobile products also provide protection against infected sites, phishing sites and spam sites.
Will Hotspot Shield help protect me from the Flash Trojan virus on my Mac?
Yes, our malware database includes all the known malware and infected sites distributing the Flash Trojan virus. And more are being added all the time. If you accidentally go to one of these sites, you will be warned before the page loads and thus be protected from malicious, unwanted or unintentional downloads.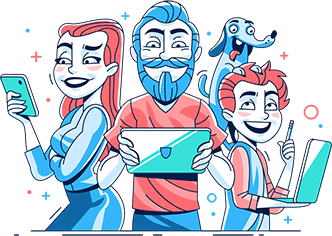 Download Hotspot Shield VPN. It's Free!
Join over 650 million users already enjoying absolute Internet Freedom around the world by downloading Hotspot Shield VPN.