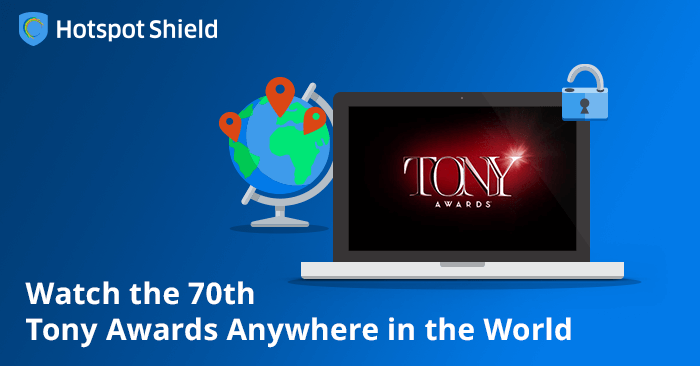 How to live stream the 70th Tony Awards outside US
The annual Tony Awards is one of theater's most anticipated events. First held in 1947 in honor of actress and American Theatre Wing co-founder Mary Antoinette Perry, the annual award ceremony brings together many of today's biggest theater acts and legends, and honors their achievements, innovative contributions, and impact not just on the theater industry, but also on pop culture.
This year, the Tony Awards is scheduled to take place at the Beacon Theatre in New York City on June 12, 2016, with English talk show host and Tony Award winner James Corden as the host. Aside from who among the nominees will take home the most number of awards, there are a lot of things that fans and music enthusiasts can expect to see during the star-studded event.
If you're a theater lover or a fan of any of the nominees, you wouldn't want to miss the live showing of the awards. Not only will you get minute-by-minute developments on the Red Carpet and at the awards proper when you watch live, you also get to see the actors' acceptance speeches in full, without the need to book a plane ticket to New York.
How can you catch the 70th Tony Awards?
If you happen to live within the U.S. then you can catch the live telecast of the 70th Tony Awards on CBS if you have a subscription. You can also watch it live on CBS.com Live TV, which is included in your CBS subscription. If you don't have one, CBS offers a 7-day free trial of their Live TV. The live stream is only in the US though, so if you live outside its territories, you may need to find a way to get around this restriction.
To do this, you will need the right tools, such as a free website unblocking proxy. Or you can also download a virtual private network (VPN), which works much better than proxies and is also free. There are many free VPNs out there, and one of the best options for this purpose is Hotspot Shield.
What is Hotspot Shield VPN?
Hotspot Shield is a free VPN for your Windows, Mac, Android and iOS device, and a free extension for your Firefox or Chrome browsers, that lets you access US-restricted content for free. Hotspot Shield does this by connecting your device to a server in the US, allowing you to make use of local IP addresses there and appear as if you are using the Internet in a US territory. And since your actual IP address is masked, you will be able to enjoy more secure and private online sessions.
In addition to this, Hotspot Shield has additional features that you can also enjoy for free like added protection against malware attacks, a secure and encrypted tunnel that protects sensitive information such as passwords and bank transactions for anonymous browsing, and a website unblocker so you can bypass restrictions set by your network administrator.
How to watch the 70th Tony Awards using Hotspot Shield VPN
Here's how you can watch the awards ceremony:
Download and install the Hotspot Shield app on your computer or mobile device. freedownload-button

Open the app and turn on the protection to connect to a US server.
If you're not subscribed to CBS, avail of the free trialat least five days before the event.
Log on to CBS.com on the day of the event.
You can now watch the 70th Tony Awards live!
What's the difference between Hotspot Shield Free and Hotspot Shield Elite?
Both Hotspot Shield Free and Hotspot Shield Elite provide options that allow you to access restricted content on whatever device that you prefer, whether it's a laptop, tablet or smartphone. In addition to this, both also provide anonymous surfing, IP address masking, private and secure browsing, Wi-Fi security, and malware protection.
With Hotspot Shield Elite, however, not only can you enjoy these benefits, you will also be able to access more than 15 international virtual locations. Also, unlike the free version, the Elite version has zero ads, which is great for those who regularly use VPNs. For full explanation about the difference between Hotspot Shield Free (basic version) and Elite (premium version), visit this post.
Catch the 70th Tony Awards on June 12, 2016 on CBS by downloading Hotspot Shield on your device now!