VPN Israel
Israel and Online Censorship
Israel has a fairly open internet system, one that is much more open than other countries that are in the Middle East. However, Israel has considered online censorship legislation in the past. Although the legislation in question did not pass, it still made many people aware that online censorship could occur in Israel sometime in the future. Nobody knows where that online censorship could extend—whether to blocking websites featuring content from political dissidents, blocking adult websites, or restricting access to gambling or file sharing sites. More and more internet users are turning to virtual private networks, or VPNs, in order to ensure that they won't have to worry about these restrictions. VPNs allow internet users the ability to access websites that could be blocked by specific geolocation at a school or a place of employment. Although the Israeli state government doesn't block websites, certain schools or office buildings might. This makes VPNs a great tool for anyone who wants to maintain full access to the internet no matter where they might be located.
How a VPN Can Help Israeli Internet Users
Virtual private networks are a strong tool for Israeli internet users because they offer so many different useful features. For example, virtual private networks are well known for allowing users to access sites blocked by geographic location. It isn't as well known that they offer powerful encryption that stops hackers and other third parties from being able to view any of your online communications. The secure connections offered by VPNs keep your online experience private, especially since you are provided with a new IP address that is separate from the one provided to you by your internet service provider. If you are looking for an anonymous online experience, then VPNs are definitely the way to go.
Making Your Online Experience More Private and Secure
Having a private and secure online experience is something that an increasing number of internet users are looking for. Virtual private networks are a great way to ensure that your online activity is private and that your important data doesn't fall into the wrong hands. One of the biggest reasons online privacy has become a more prominent issue is because hackers and identity thieves are getting into more devices and stealing critical data. Hackers do this by taking advantage of unsecured internet connections. Often, hackers will frequent public areas that have Wi-Fi and wait for someone who hasn't secured their connection. Once inside your device, hackers can gain access to virtually anything. Instead of waiting for that to happen, more internet users are utilizing VPNs. VPNs offer a secure connection along with encryption, so that hackers and third parties can't access any of your data. Even if they could, the encryption would protect you, keeping them from being able to see the information that you were looking at or your online communications.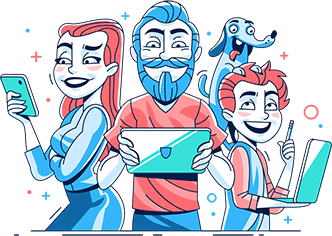 Download Hotspot Shield VPN. It's Free!
Join over 650 million users already enjoying absolute Internet Freedom around the world by downloading Hotspot Shield VPN.