VPN Germany
In Germany, the internet is a vast and seemingly uncensored world. However, it is proven that the internet security in Germany is less than desirable. Based on these facts, internet users in Germany have found ways to view the content they want without the extra effort and trouble of other issues. With a VPN, or a virtual private network, those in Germany are able to locate the world's information with a simple click. For Germany, Hotspot Shield is the best tool for VPN software with privacy and security that is unmatched.
What is a VPN?
A virtual private network gives you the security you need while creating a secure connection to other networks over the web. A VPN does many thinks such as helping you access blocked websites and overcome censored content that you cannot see. Important for Germany, a VPN allows you to have optimum privacy when using the internet. A VPN works by creating a connection to a private network in a remote location. As you search the internet, view videos and listen to music, the information that is received in sent through this secure connection between you and the VPN's server. This keeps you safe and creates the productivity of your typical LAN connection without the tedious hardware.
Why have a VPN in Germany?
There are hundreds of reasons to have your own VPN in Germany. However, there are a few reasons that hold precedence over the others. A VPN gives you amazing privacy while you use the internet. A VPN hides your activity and also your ISP from other eyes and ears. A VPN gives you access to US video streaming and blocked content. Your location no longer matters with a VPN – view anything you wish at your discretion. A VPN allows you to pass through censored material, no matter where you are. You can sit in your favorite café and be protected or inside of your university as well. Location-based blocking no longer exists. A VPN lets you view websites that you couldn't without it. View your favorite gaming websites or discover new ones with your VPN. A VPN gives you the ultimate internet experience from beginning to end. You can feel protected as you work from your home office, or game on your favorite website. Watch movies online as well as listen to that new track all with superior privacy.
What is Hotspot Shield?
In Germany, there is only one VPN software that gives you everything you need in one place. Hotspot Shield allows you to: Browse the internet anonymously and privately from anywhere and everywhere. Access all blocked websites, content and more as you wish, no matter your location. Hide your IP address from hackers and spammers that may wish to steal your sensitive information. Have ultimate protection while you are browsing in public. You have your own server to use without having to use the public server, keeping your identity and information safe. All of this and more can be yours with Hotspot Shield. In Germany, censorship still exists. Get the information you need and content you want with Hotspot Shield.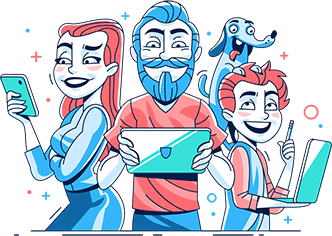 Download Hotspot Shield VPN. It's Free!
Join over 650 million users already enjoying absolute Internet Freedom around the world by downloading Hotspot Shield VPN.